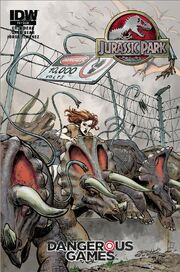 The fourth issue of Jurassic Park: Dangerous Games was released by IDW Publishing in December 7th 2011. The artwork was done by Jorge Jimenez. The story was written by Erik Bear, with story consultant Greg Bear.[1]
Agent Espinoza has evaded near death on Jurassic Park countless times over the past 24 hours. Now he's looking to payback the man behind it all- drug kingpin Cazares! That means breaking into Cazares' headquarters in the Jurassic Park hotel... which is fortified with countless gun-toting goons! How can Espinoza storm the compound? A herd of triceratops might not hurt, for starters!
under construction
Reception
Edit
PopApostle gave Issue 3 an overall grade B. "This was the best issue so far, but in the words of Dr. Ian Malcolm, "You do have some dinosaurs in your dinosaur park?""[2]
Dinosaurs
Edit
↑ Preview: Jurassic Park: Dangerous Games #4, comicbookresources.com.