This page needs serious attention!
---
This article does not currently meet the standards set at
Park Pedia: The Jurassic Park Wiki. Please feel free to edit it, and pose any
questions you might have on the article's talk page.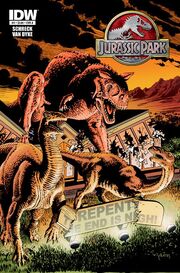 This is the third release in IDW Comics Jurassic Park: Redemption series. Written by Bob Schreck, artist was Nate Van Dyke and cover art was done by Paul Pope and Tom Yeates.
The unexplained cattle mutilations and missing farmers' count is fast increasing while, unbeknownst to the sheriff Delgado of a small Texas town. The Carnotaur can't be found because it's hiding in a cave of the Dinosaur Valley State Park, frightening children.
Dr. Backer has survived the Carnotaur attack and has arrived back at the secret facility, finding Dr. Wu dead. Backer starts to suspect something. L. Would arrives at the facility.
Lex and Tim Murphy are independently drawn to Glen Rose.
Dinosaurs
Edit
Cover art is done by Paul Pope, Tom Yeates