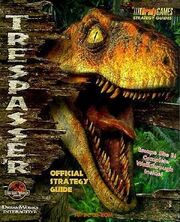 Jurassic Park: Trespasser Official Strategy Guide
is a paperback game guide published by BradyGames. It contains information on weapons, dinosaurs and levels from the game Jurassic Park: Trespasser. It also contains a detailed description of the history of InGen (Trespasser Canon). The book contains 216 pages and some of the information seems to contain cut products from the official release.
Ad blocker interference detected!
Wikia is a free-to-use site that makes money from advertising. We have a modified experience for viewers using ad blockers

Wikia is not accessible if you've made further modifications. Remove the custom ad blocker rule(s) and the page will load as expected.