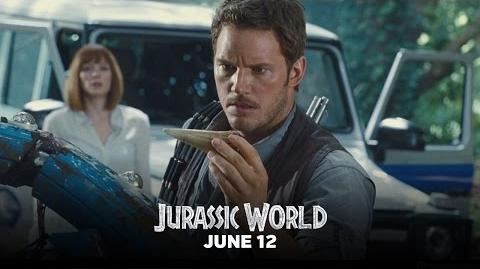 Jurassic Park IV release date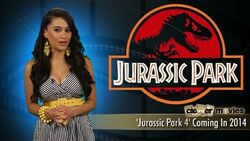 Date: 2013-01-13
Author: User:Jhayk' Sulliy
After Sandhu, a member on Jurassic Park Legacy received a Tweet from producer Frank Marshall on the 9th of January where Marshall hinted at incoming news, this article was just released today from ComingSoon.net that announces the planned release date of Jurassic Park IV as June 13th, 2014!
Artcile: http://www.comingsoon.net/news/movienews.php?id=98802
Coupled with the recent news of Spielberg postponing Robococalypse, we might just be seeing our favorite director returning to leading our favorite franchise. Is that last bit the hopeful musings of a fan? Yes, but a fanatic can dream, can't he?
Tell what you think about it in this blog.
Jurassic Park 3D poster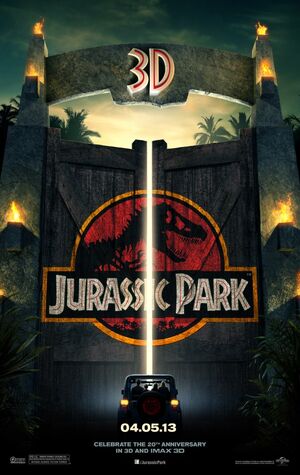 This is the poster of the upcoming 3D release of Jurassic Park! Note that it won't be released precisely at the film 20th anniversary on 2013-06-11, but instead on April 5th of the same year. The trailer was released online soon after the poster was revealed.

Video's
There is a new addition to this wiki: Videos. Of course, we have added YouTube videos of JP on this wiki for a long time. However, most of these video's are illegal and are often removed after some time. Now Wikia has made a Video Library containing all JP scenes, powered by AnyClips. Now we can add videos of every JP scene to our articles! But remember, you can only watch 10 minutes a day to the AnyClips video's.
Pictures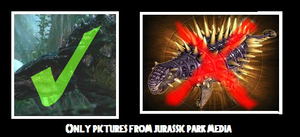 Date: 2012-10-16
Author: MismeretMonk

Hello fellow Park Pedians. This wiki has almost 4000 pictures. I am sure that 20% of consists of doubles. Furthermore, a lot of new users add pictures to the articles that are not from the Jurassic Park Franchise. Particularly the latter looks very sloppy.
I ask everyone to remove non-JP pictures from this wiki (unless they are needed). To prevent doubles we must organise the pictures so they are easier to find if you need them. Before you add a picture, make sure it isn't uploaded yet. If you add a picture, place it into a category. If the picture is from one of the movies, add the picture to the media page of the film.
Jurassic Park: The Game article
Date: 2012-09-13
Author: MismeretMonk
This wiki still needs a lot of work. One thing that I would like to have changed is the Story section of Jurassic Park: The Game. Is there anyone who would like to write the overall story of this great game?


News archive: DNN Newsland



Create blog post

Latest blog posts

Jurassic World: Operation Genesis is the sequel to Jurassic Park: Operation Genesis, with greatly i…

Read more >

I think I may have figured out some of the animal sounds used for the dinosaurs on Warpath: Jurassi…

Read more >

The doors of the original Visitor Center are intact which seems to contradict the scene in Jurassic…

Read more >

See more >
To create a new page, enter the title below.