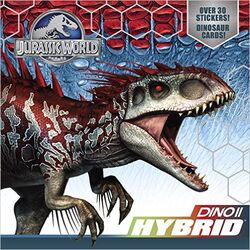 Jurassic World: Dino Hybrid is a book set to be published on March 1, 2016, by Random House. Written for children 3-7, it contains dinosaur hybrid trading cards and over 30 stickers. It has 24 pages.[1]
Description
Edit
Return to Jurassic World and discover that Indominus rex wasn't the only hybrid dinosaur created in the lab. Children 3-7 are sure to love this action-packed book featuring the monstrous creations made from mixed-up dinosaur DNA—as well as Jurassic World hybrid dinosaur trading cards and over 30 stickers![1]
Behind the scenes
Edit
The hybrid featured on the cover is a Level 40 Indominus rex from Jurassic World: The Game.
Notes and references
Edit
↑ 1.0 1.1 Barnes&Noble - Dino Hybrid (Jurassic World) Retrieved December 5, 2015 from http://www.barnesandnoble.com/w/dino-hybrid-billy-wrecks/1122956179?ean=9780399553424&st=PLA&sid=BNB_DRS_Core+Shopping+Books_00000000&2sid=Google_&sourceId=PLGoP505&k_clickid=3x505