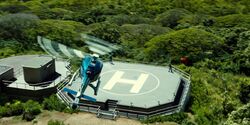 Jurassic World Helipad is the main location to land on Isla Nublar, it houses the Control Room below it.
The helipad was present on the island by 2015.
After the incident that occurred that year the Tyrannosaurus rex referred to as "Rexy" managed to get on the helipad where she let out a loud roar.[1]
Notes and references
Edit
Ad blocker interference detected!
Wikia is a free-to-use site that makes money from advertising. We have a modified experience for viewers using ad blockers

Wikia is not accessible if you've made further modifications. Remove the custom ad blocker rule(s) and the page will load as expected.