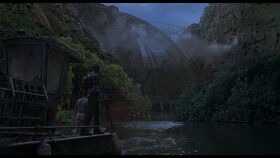 "It's a birdcage."
The following article contains spoilers for an upcoming or recent installment in the Jurassic Park Franchise. Please be careful viewing this article if you do not wish to be spoiled.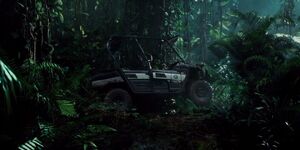 The Kawasaki Teryx4, also known as "Jurassic Buggy", is a small off-road vehicle used by Jurassic World as a maintenance vehicle. After escaping from Indominus rex at the waterfall, Zach and Gray Mitchell came upon a Teryx4 crumpled against a tree. Apparently, it'd been attacked by Indominus rex. Its driver's hardhat lay nearby, crumpled and bloodied. Although the vehicle itself was beyond repair, the boys were able to salvage its battery and use it to get Jeep 29 running again.
Ad blocker interference detected!
Wikia is a free-to-use site that makes money from advertising. We have a modified experience for viewers using ad blockers

Wikia is not accessible if you've made further modifications. Remove the custom ad blocker rule(s) and the page will load as expected.