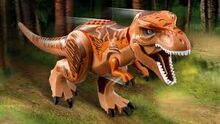 75918 T. rex Tracker is a 520 piece Jurassic World set to be released in May 2015. It includes a T. rex, Vic Hoskins, an ACU, and a Vet. The T. rex has the same modle from the 2010 DINO set only repainted to look more like the T. rex from Jurassic World. The Tracker can shoot a dart and has bars that can close in and close on the T. rex as well deploying a motercycle.  Curiously the tracker is not seen in the film or has ever been mentioned.
Ad blocker interference detected!
Wikia is a free-to-use site that makes money from advertising. We have a modified experience for viewers using ad blockers

Wikia is not accessible if you've made further modifications. Remove the custom ad blocker rule(s) and the page will load as expected.