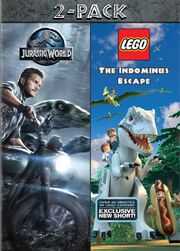 LEGO Jurassic World: The Indominus Escape is a five-part animated series based on LEGO Jurassic World. Each part was released on the YouTube channels of Jurassic World and LEGO over the course of five days from October 3-October 7, 2016. The whole series merged into a 24-minute movie and a 10 minute exclusive short would later be bundled in a 2-pack with Jurassic World released on October 18, 2016.[1]
Product description
Edit
In LEGO® Jurassic World: The Indominus Escape, two of the most beloved brands of all time come together like never before! When Simon Masrani accidentally destroys one of the park's main attractions (he really should learn how to fly that helicopter), he calls upon his most trusted employee Claire to save the day. After some quick dino-DNA building in Dr. Wu's lab. Claire comes up with the perfect solution that is sure to delight Masrani and kids everywhere - the Indominus rex - the smartest, biggest, and scariest hot dog-loving hybrid dinosaur ever created! Unfourtantly, disaster strikes after the Indominus eats all the hot dogs and escapes from its pen in a hungry rage. It's now up to the talented and rugged dinosaur trainer Owen Grady to save the day and battle the Indominus rex in an epic, action-packeted, finale![1]
To be added
Characters
Edit
Behind the scenes
Edit
This was the first animated full-length animated feature made of the Jurassic Park franchise.
Interestingly, the cover art depicts the Pteranodon with it's color scheme from the 2012 LEGO Dino toy line.
The Jurassic World Velociraptor Pack, Blue, Charlie, Delta, and Echo's colors seem to be more accurate to the films rather than their LEGO sets.
This is one of a few Lego productions that do not include cartoon sound effects.
Although the short has not been officially designated an MPAA rating (due to it being a TV special), the US DVD disc artwork states it to have been designated a G rating from the MPAA, possibly making it the only Jurassic Park production to have been desginated that MPAA rating, due to it being not only a Lego short, but also made for children.
Owen Grady, Simon Masrani, and Vic Hoskins are the only characters played by different actors in this special.
This is the second Lego short in which A.J. LoCascio voices Chris Pratt's character (which is Owen Grady); the first was the Legoland 4D short The Lego Movie 4D: A New Adventure (in which A.J. LoCascio took over Chris Pratt's voice-acting role as Emmet Brickowski).
Notes and referecnes
Edit
↑ 1.0 1.1 (September 27, 2016) NBC Universal Brand Development Annouced. JurassicWorld.com.