Labyrithodontia is an amphibian in Jurassic World: The Game.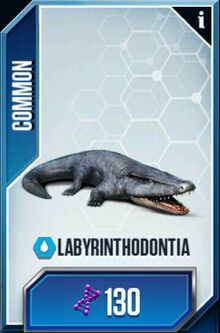 Information
Edit
Labyrithodontia is usually unlocked by beating it in Battle Stage 9. It can also be unlocked early via card packs or purchased with 130 DNA. Since June 29, 2019, a Level 40 Labyrinthodontia could be mixed with a Level 40 Argentinosaurus to make the hybrid Labyrinthosaurus.
In real life, "Labyrithodontia" is a group of tetrapods, not an actual genus. The exact genus that the in-game "Labyrinthodontia" is is currently unknown.
Cost and Time to Hatch
Availability
Common
Incubation Period
00:05:00
Placement Cost
130 DNA
Additional Information
Labyrinthodontia
Level-Based Stats
Edit
| Level | Unmodified Earning Rates (3 hrs) | Feeding Costs | Life | Attack |
| --- | --- | --- | --- | --- |
| 1 | 34 | 42 (5x = 210) | 43 | 16 |
| 2 | 67 | 82 (5x = 410) | 45 | 17 |
| 3 | 100 | 124 (5x = 620) | 47 | 18 |
| 4 | 133 | 164 (5x = 820) | 50 | 19 |
| 5 | 166 | 205 (5x = 1,025) | 52 | 20 |
| 6 | 199 | 245 (5x = 1,225) | 54 | 21 |
| 7 | 232 | 287 (5x = 1,435) | 57 | 22 |
| 8 | 265 | 327 (5x = 1,635) | 59 | 23 |
| 9 | 299 | 368 (5x = 1,840) | 62 | 24 |
| 10 | 322 | Evolve (00:05:00 @ 40 DNA) | 64 | 24 |
| 11 | 729 | 450 (5x = 2,250) | 83 | 32 |
| 12 | 795 | 490 (5x = 2,450) | 86 | 33 |
| 13 | 862 | 532 (5x = 2,675) | 89 | 34 |
| 14 | 928 | 573 (5x = 2,865) | 92 | 35 |
| 15 | 994 | 615 (5x = 3,075) | 95 | 36 |
| 16 | 1,060 | 655 (5x = 3,275) | 98 | 37 |
| 17 | 1,127 | 696 (5x = 3,480) | 101 | 38 |
| 18 | 1,193 | 736 (5x = 3,680) | 104 | 40 |
| 19 | 1,259 | 778 (5x = 3,890) | 107 | 41 |
| 20 | 1,325 | Evolve (00:30:00 @ 50 DNA) | 110 | 42 |
| 21 | 2,783 | 1,032 (5x = 5,160) | 135 | 52 |
| 22 | 2,915 | 1,080 (5x = 5,400) | 139 | 53 |
| 23 | 3,048 | 1,130 (5x = 5,650) | 142 | 54 |
| 24 | 3,180 | 1,178 (5x = 5,890) | 146 | 56 |
| 25 | 3,312 | 1,228 (5x = 6,140) | 148 | 57 |
| 26 | 3,445 | 1,276 (5x = 6,380) | 153 | 58 |
| 27 | 3,577 | 1,325 (5x = 6,625) | 156 | 60 |
| 28 | 3,710 | 1,374 (5x = 6,870) | 160 | 61 |
| 29 | 3,842 | 1,424 (5x = 7,120) | 163 | 62 |
| 30 | 3,975 | Evolve (01:00:00 @ 60 DNA) | 167 | 64 |
| 31 | 8,214 | 1,636 (5x = 8,180) | 199 | 76 |
| 32 | 8,479 | 1,690 (5x = 8,450) | 203 | 78 |
| 33 | 8,744 | 1,743 (5x = 8,715) | 207 | 79 |
| 34 | 9,009 | 1,794 (5x = 8,970) | 211 | 81 |
| 35 | 9,274 | 1,849 (5x = 9,245) | 215 | 82 |
| 36 | 9,539 | 1,900 (5x = 9,500) | 220 | 84 |
| 37 | 9,804 | 1,953 (5x = 9,765) | 224 | 86 |
| 38 | 10,069 | 2,005 (5x = 10,025) | 228 | 87 |
| 39 | 10,334 | 2,059 (5x = 10,295) | 232 | 89 |
| 40 | 10,599 | Fuse(04:00:00 @ 100 DNA) | 236 | 90 |