This page needs serious attention!
---
This article does not currently meet the standards set at
Park Pedia: The Jurassic Park Wiki. Please feel free to edit it, and pose any
questions you might have on the article's talk page.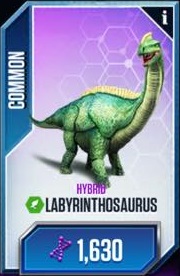 Labyrinthosaurus is one of the hybrids that can be created in the game. It was able to created for the player's park on June 29th, 2016. It is a genetically modified hybrid of Argentinosaurus and Labyrinthodontia.
Cost and Time to hatch
Availability
Common
Incubation Period
Placement Cost
1,630
Appearance
Edit
| | |
| --- | --- |
| Level 1-10 | |
| Level 11-20 | |
| Level 21-30 | |
| Level 31-40 | |
Level-Based Stats
Edit
| Level | Unmodified Earning Rates (30 Minutes) | Feeding Costs | Life | Attack |
| --- | --- | --- | --- | --- |
| 1 | | (5x = ) | | |
| 2 | | (5x = ) | | |
| 3 | | (5x = ) | | |
| 4 | | (5x = ) | | |
| 5 | | (5x = ) | | |
| 6 | | (5x =) | | |
| 7 | | (5x = ) | | |
| 8 | | (5x =) | | |
| 9 | | (5x = ) | | |
| 10 | 1,854 | Evolve (00:00:00 @ DNA) | 317 | 109 |
| 20 | 3,705 | Evolve (00:00:00 @ DNA) | 543 | 187 |
| 40 | 29636 | Max | 1170 | 404 |