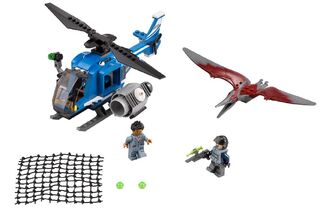 The LEGO 75915 Pteranodon Capture is a toy in the LEGO Jurassic World toy line planned to be released in the Summer of 2015. It includes the JW001 heliocopter, a Pteranodon, Simon Masrani, and a ACU Gunner. The Pteranodon has a custom model. The smaller gun on the Helicopter can shoot with high speed but little accuracy. The larger gun fits the net which is used to catch the Pteranodon.
Ad blocker interference detected!
Wikia is a free-to-use site that makes money from advertising. We have a modified experience for viewers using ad blockers

Wikia is not accessible if you've made further modifications. Remove the custom ad blocker rule(s) and the page will load as expected.