75916 Dilophosaurus Ambush
is a 248 piece
Jurassic World
set
released in May 2015. It includes a
Dilophosaurus
,
Gray
, and an ACU. The 
Dilophosaurus
has the same body as the raptors and the same arms and even the same jaw and jaw lock. The only differences are the legs and head piece. The Gyrosphere stays upright when being moved.  the ACU also lacks the armor that other ACU troopers have in the lego sets.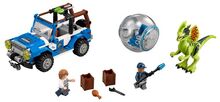 Ad blocker interference detected!
Wikia is a free-to-use site that makes money from advertising. We have a modified experience for viewers using ad blockers

Wikia is not accessible if you've made further modifications. Remove the custom ad blocker rule(s) and the page will load as expected.