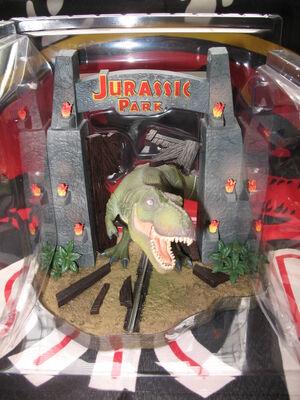 The Limited Edition Blu-ray Trilogy gift set was the special edition of the release of the Jurassic Park Trilogy on Blu-ray. There were rumours of this release for years, but it was finally released on October 25, 2011 (USA) (October 27 in the EU).
Blu-ray box set
Edit
The Blu-ray box set itself was not that special. The cover art was very poor compared to the Jurassic Park DVD Adventure Pack. Multiple versions of the Blu-ray box were released. Each movie is on a Blu-ray, and each of them has an associated DVD containing background material.
The main menu constrains paradise scenes from the movies. Along with the music of Journey to the Island. In contrast with the menu's of the DVD's with the spooky music of the Titles and raptors walking around.    
Limited edition gift set
Edit
The extra's of the limited edition were a die cast Tyrannosaur figurine rampaging through the Jurassic Park Gate. It all came in a large box. The cover art of the box made it look like a wooden box.