Limnorhynchus is creatable in Jurassic World: The Game as a common hybrid pterosaur..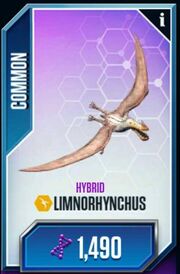 Information
Edit
It was added to the game as part of the March 16th, 2016 update. It can be created by fusing a Level 40 Limnoscelis and a Level 40 Coloborhynchus. Additional individuals can be purchased from the market for 1,490 DNA or found in Common Rumble Packs.
Cost and Time to Hatch
Availability
Common
Incubation Period
01:49:00
Placement Cost

1,490 DNA

Selling Reward
745 DNA
Maximum Earning Rate
879 Gold/Minute
Appearance
Edit
Unlocked Trivia
Edit
Reward:
"The Limnorhynchus' name means 'marsh beak', referencing its preferred diet of fish and small amphibians!"
Reward:
"The Limnorhynchus has spikes running from the tip of its beak to the tip of its tail!"
Reward:
"
Reward:
"Did you know that the Limnorhynchus is an amphibian? It can dive up to depths of 40 feet!"
Level-Based Stats
Edit
| Level | Unmodified Earning Rates (30 mins) | Feeding Costs | Life | Attack |
| --- | --- | --- | --- | --- |
| 1 | 83 | 1,766 | 198 | 62 |
| 2 | 165 | 3,499 | 209 | 65 |
| 3 | 248 | 5,265 | 220 | 69 |
| 4 | 330 | 6,966 | 231 | 72 |
| 5 | 413 | 8,731 | 242 | 76 |
| 6 | 495 | 10,464 | 253 | 79 |
| 7 | 577 | 12,230 | 264 | 82 |
| 8 | 660 | 13,931 | 275 | 86 |
| 9 | 742 | 15,696 | 286 | 89 |
| 10 | 825 | Evolve (01:00:00 @ 80 DNA) | 297 | 93 |
| 11 | 1,813 | 12,797 | 385 | 120 |
| 12 | 1,978 | 13,952 | 398 | 124 |
| 13 | 2,143 | 15,130 | 412 | 129 |
| 14 | 2,308 | 16,263 | 426 | 133 |
| 15 | 2,473 | 17,440 | 440 | 137 |
| 16 | 2,637 | 18,596 | 453 | 142 |
| 17 | 2,802 | 19,773 | 467 | 146 |
| 18 | 2,967 | 20,907 | 481 | 150 |
| 19 | 3,132 | 22,106 | 494 | 155 |
| 20 | 3,297 | Evolve (02:00:00 @ 100 DNA) | 508 | 159 |
| 21 | 6,922 | 29,300 | 626 | 196 |
| 22 | 7,252 | 30,695 | 643 | 201 |
| 23 | 7,582 | 32,101 | 659 | 206 |
| 24 | 7,911 | 33,485 | 676 | 211 |
| 25 | 8,241 | 34,902 | 692 | 216 |
| 26 | 8,571 | 36,265 | 709 | 221 |
| 27 | 8,900 | 37,671 | 725 | 227 |
| 28 | 9,230 | 39,066 | 742 | 232 |
| 29 | 9,559 | 40,472 | 758 | 237 |
| 30 | 9,889 | Evolve (04:00:00 @ 120 DNA) | 775 | 242 |
| 31 | 20,437 | 61,847 | 923 | 288 |
| 32 | 21,096 | 63,787 | 942 | 294 |
| 33 | 21,755 | 65,804 | 962 | 300 |
| 34 | 22,414 | 67,788 | 981 | 306 |
| 35 | 23,074 | 69,804 | 1,000 | 312 |
| 36 | 23,733 | 71,788 | 1,019 | 319 |
| 37 | 24,392 | 73,804 | 1,038 | 325 |
| 38 | 25,051 | 75,755 | 1,058 | 331 |
| 39 | 25,711 | 77,772 | 1,077 | 337 |
| 40 | 26,370 | MAX | 1,096 | 343 |