Limnosecelis is creatable in Jurassic World: The Game as a Common amphibian.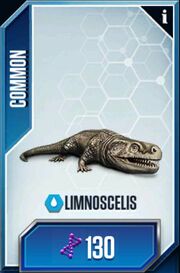 Information
Edit
Limnoscelis is unlocked by completing Battle Stage 3. Additional individuals can be purchased in the market for 130 DNA or found through card packs.
As of March 16, 2016, a Level 40 Limnoscelis can be fused with a Level 40 Coloborhynchus to make the hybrid Limnorhynchus.
Cost and Time to Hatch
Availability
Common
Incubation Period
00:10:00
Placement Cost
130 DNA
Selling Reward
65 DNA
Maximum Earning Rate
51.2 Gold/Minute
Additional Information
Limnoscelis
Appearance
Edit
Unlocked Trivia
Edit
Reward:
"A reptile-like amphibian, Limnoscelis is greek for 'marsh footed.'"
Reward:
"Due to their stubby legs, which limited mobility, the Limnoscelis tend to hunt slow moving prey."
Reward:
"The Limnoscelis are actually quite light, weighing between 5 and 10 pounds. That's the same as a house cat!"
Reward:
"Did you know that despite their light build, the Limnoscelis are actually quite large, at 4 feet in length."
Level-Based Stats
Edit
| Level | Unmodified Earning Rates (3 hrs) | Feeding Costs | Life | Attack |
| --- | --- | --- | --- | --- |
| 1 | 29 | 36 (5x = 180) | 48 | 12 |
| 2 | 58 | 71 (5x = 355) | 51 | 13 |
| 3 | 87 | 107 (5x = 535) | 53 | 14 |
| 4 | 116 | 142 (5x = 710) | 56 | 14 |
| 5 | 144 | 178 (5x = 890) | 59 | 15 |
| 6 | 173 | 213 (5x = 1,065) | 61 | 16 |
| 7 | 202 | 249 (5x = 1,245) | 64 | 16 |
| 8 | 231 | 284 (5x = 1,420) | 67 | 17 |
| 9 | 260 | 320 (5x = 1,600) | 69 | 18 |
| 10 | 288 | Evolve (00:05:00 @ 40 DNA) | 72 | 19 |
| 11 | 634 | 391 (5x = 1,955) | 93 | 24 |
| 12 | 692 | 426 (5x = 2,130) | 97 | 25 |
| 13 | 749 | 462 (5x = 2,310) | 100 | 26 |
| 14 | 807 | 498 (5x = 2,490) | 103 | 26 |
| 15 | 865 | 534 (5x = 2,670) | 106 | 27 |
| 16 | 922 | 569 (5x = 2,845) | 110 | 28 |
| 17 | 980 | 605 (5x = 3,025) | 113 | 29 |
| 18 | 1,037 | 640 (5x = 3,200) | 116 | 30 |
| 19 | 1,095 | 676 (5x = 3,380) | 120 | 31 |
| 20 | 1,152 | Evolve (00:30:00 @ 50 DNA) | 123 | 31 |
| 21 | 2,420 | 897 (5x = 4,485) | 152 | 39 |
| 22 | 2,535 | 939 (5x = 4,695) | 156 | 40 |
| 23 | 2,650 | 982 (5x = 4,910) | 160 | 41 |
| 24 | 2,765 | 1,024 (5x = 5,120) | 164 | 42 |
| 25 | 2,880 | 1,067 (5x = 5,335) | 168 | 43 |
| 26 | 2,996 | 1,109 (5x = 5,545) | 172 | 44 |
| 27 | 3,111 | 1,152 (5x = 5,760) | 176 | 45 |
| 28 | 3,226 | 1,194 (5x = 5,970) | 180 | 46 |
| 29 | 3,341 | 1,238 (5x = 6,190) | 184 | 47 |
| 30 | 3,457 | Evolve (01:00:00 @ 60 DNA) | 188 | 48 |
| 31 | 7,143 | 1,422 (5x = 7,110) | 224 | 57 |
| 32 | 7,373 | 1,469 (5x = 7,345) | 228 | 58 |
| 33 | 7,604 | 1,515 (5x = 7,575) | 233 | 60 |
| 34 | 7,834 | 1,560 (5x = 7,800) | 238 | 61 |
| 35 | 8,065 | 1,607 (5x = 8,035) | 242 | 62 |
| 36 | 8,295 | 1,652 (5x = 8,260) | 247 | 63 |
| 37 | 8,525 | 1,698 (5x = 8,490) | 252 | 64 |
| 38 | 8,756 | 1,743 (5x = 8,715) | 256 | 66 |
| 39 | 8,986 | 1,790 (5x = 8,950) | 261 | 67 |
| 40 | 9,216 | Fuse (04:00:00 @ 100 DNA) | 266 | 68 |