"Ooh, ah," that's how it always starts. But then later there's running and screaming."

---

 

This page contains spoilers from an upcoming, or newly released, installment of the Jurassic Park franchise. If you don't want spoilers, leave the page!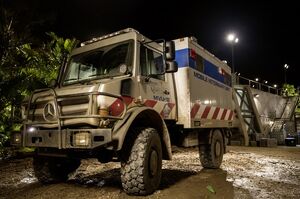 MVU-12 was a Mercedes-Benz Unimog U 4000 used as a Mobile Veterinarian Unit. Claire Dearing used it to get herself and her nephews Zach Mitchell and Gray Mitchell to safety.