Home
Talk

1
1,464pages on
this wiki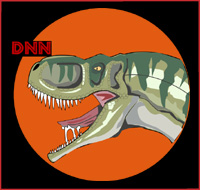 More colors in Jurassic Park IV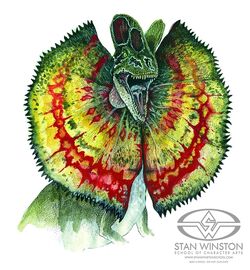 Date: 2013-04-01
Author: MismeretMonk

I saw a recent article from the Los Angeles Times featuring Jack Horner.
The article quotes Horner about what he thinks about movie dinosaurs:
Movie dinosaurs aren't nearly as glamorous as 
real ones, which were brightly colored. 
Steven has made the point several times to me 
that colorful dinosaurs are not very scary. 
Gray and brown and black are more scary. 
I worked on the television series Terra Nova 
with Steven as well, and he did get some color 
into some of those.

Horner also got some more color in the Jurassic Park III dinosaurs. In JP and TLW all dinosaurs are grey/brown (at least to the untrained eye). In JP3 all dinosaurs, and particularly the raptors have a lot of colors. If I compare the JP and TLW dinos to the JP3 dinos, they look downright boring.
If Horner could choose, the Jurassic Park IV dinosaurs have even more colors:
So I think by ['Jurassic Park] IV,' we'll have a little more colorful animals.

Say what you think about it in this blog post.
No feathers in Jurassic Park IV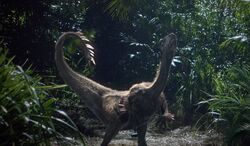 Date: 2013-03-20
Author: MismeretMonk

Colin Trevorrow finally revealed something about Jurassic Park IV. He wrote on twitter:
No feathers. #JP4

This probably means we won't see (more realistic) Raptors covered with feathers, as we saw in Terra Nova. Are you upset or relieved now?
Tell us what you think over here.
Colin Trevorrow will direct Jurassic Park IV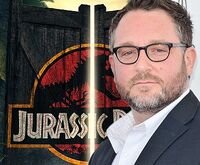 Date: 2013-01-13
Author: MismeretMonk

Deadline announced yesterday that Colin Trevorrow will direct Jurassic Park IV. Patrick Crowley & Frank Marshall will serve as producers.
This puts and end to all hope of fans that wanted Steven Spielberg to direct JP4 (see this speculation of Screenrant).
Let us hope that Trevorrow is the right man for the job.
Tell us what you think about it here.
Jurassic Park IV release date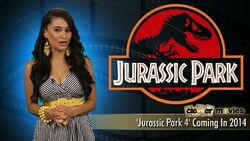 Date: 2013-01-13
Author: User:Jhayk' Sulliy
After Sandhu, a member on Jurassic Park Legacy received a Tweet from producer Frank Marshall on the 9th of January where Marshall hinted at incoming news, this article was just released today from ComingSoon.net that announces the planned release date of Jurassic Park IV as June 13th, 2014!
Artcile: http://www.comingsoon.net/news/movienews.php?id=98802
Coupled with the recent news of Spielberg postponing Robococalypse, we might just be seeing our favorite director returning to leading our favorite franchise. Is that last bit the hopeful musings of a fan? Yes, but a fanatic can dream, can't he?
Tell what you think about it in this blog.
Jurassic Park 3D poster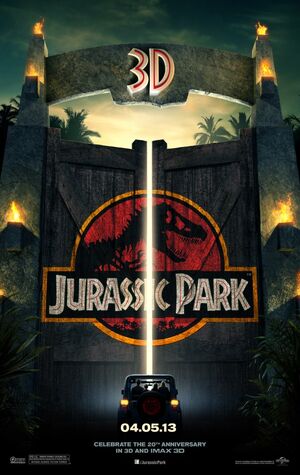 This is the poster of the upcoming 3D release of Jurassic Park! Note that it won't be released precisely at the film 20th anniversary on 2013-06-11, but instead on April 5th of the same year. The trailer was released online soon after the poster was revealed.

Video's
There is a new addition to this wiki: Videos. Of course, we have added YouTube videos of JP on this wiki for a long time. However, most of these video's are illegal and are often removed after some time. Now Wikia has made a Video Library containing all JP scenes, powered by AnyClips. Now we can add videos of every JP scene to our articles! But remember, you can only watch 10 minutes a day to the AnyClips video's.
News archive: DNN Newsland



Create blog post

Latest blog posts


Anybody remember when T. rex was a hero? Well, antihero, I suppose. Certainly, Gennaro deserved to g…


Read more >

Over the years, my dedication to Jurassic Park has created a massive JP database on my iPod device;…

Read more >

So, Jack Horner has said a new dinosaur is coming to JPIV, something cool, something creepy. I put …

Read more >

See more >



To create a new page, enter the title below.