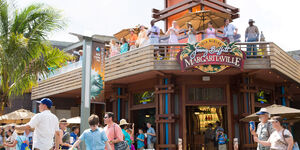 Jimmy Buffett's Margaritaville is the name of a United States-based casual dining American restaurant chain and a chain of stores selling Jimmy Buffett-themed merchandise. Margaritaville was a sponsor of Jurassic World. As a result, there appears a very recognizable Margaritaville restaurant in the movie. It is located at a corner of the park's Main Street. Jimmy Buffett himself played the barkeeper of the restaurant in the movie.
During the havoc of the Indominus rex breakout, the automatic broadcaster still encouraged visitors to visit the Margaritaville. During the havoc when the residents of the Jurassic World Aviary attacked the guests, a Dimorphodon attacked the customers. In the major battle between several Velociraptors, the park's T. rex, Rexy, and the genetically-modified hybrid Indominus rex, the Margaritaville was destroyed as Rexy smashed the Indominus rex into the Margaritaville moments before the hybrid was snatched by the Mosasaurus.
Isla Nublar Margaritaville
Edit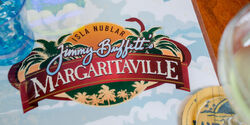 The Isla Nublar Jimmy Buffett's Margaritaville is a prominent restaurant in the Main Street of Jurassic World. It has a terrace on its roof. It is located at the end of the Main Street looking over the Jurassic World Lagoon. Jimmy Buffett, the real-life owner of restaurant chain, playes the bartender of the restaurant.
Margaritas
Edit
Who's to Blame Margarita
Margaritaville gold tequila, triple sec and our house Margarita blend.
$8.50
Blueberry Pomegranate Margarita
Margaritaville Silver Tequila, Cointreau Orange Liqueur, blueberry pemegranate puree and our house margarita blend.
$9.25
Fin to the Left
Margaritaville Silver Tequila, blue caracae and our house margarita blend.
$8.75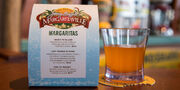 Last Mango in Paris
Margaritaville Last Mango Tequila, Cointreau Orange Liqueu, our house margarita blend and cranberry juice.
Served on the rocks $9.25
Chcolate Banana Colade
Pinnacle Chocolate Whipped Vodka. 99 Bananas and coconut puree. Topped with a float of Myers's Dark Rum.
Served frozen $9.25
Escape to Isla Nublar Jurassic World Sweepstakes Edit
To celebrate the release of Jurassic World, Margaritaville started the "Escape to Isla Nublar" sweepstakes. You could sign up until May 15, 2015 at 11:59:59 p.m. ET.[1]
Weekly Prizes (One for each weekly drawing): A $100 Margaritaville gift card and a $50 Fandango gift card.

Eligibility: 48 continental United States and the District of Columbia, who are 21 years of age and older at the time of entry.

Grand Prize: trip for (4) to Hollywood, California to attend the Jurassic World movie premiere (ARV): $7,500.
The Grand Prize was won by Scott C. from Minneapolis, MN.[2]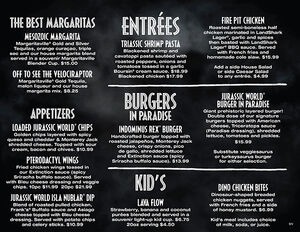 To celebrate the release of Jurassic World, a number of Margaritaville restaurants featured a special menu inspired by the movie. The menu was available at participating Margaritaville locations only. These participating restaurants were located in Destin, Atlantic City, Key West, Myrtle Beach, Mohegan Sun, Orlando, Pigeon Forge, Syracuse, Panama City Beach, Nashville, Las Vegas, Chicago and Cincinnati. Menu items may vary by location.[2]
Jurassic World T-shirtsEdit
Content needed
Jurassic World premiereEdit
Content needed
References
Edit
↑ Clipinista C. (2015, April 16). Margaritaville "Escape to Isla Nublar Jurassic World" Sweepstakes. Retrieved from http://www.couponclipinista.com/2015/04/margaritaville-escape-to-isla-nublar-jurassic-world-sweepstakes/
↑ 2.0 2.1 Jurassic World themed menu available now for a limited time! (2015, June 11). Retrieved from http://www.margaritaville.com/news?n_id=4361
Ad blocker interference detected!
Wikia is a free-to-use site that makes money from advertising. We have a modified experience for viewers using ad blockers

Wikia is not accessible if you've made further modifications. Remove the custom ad blocker rule(s) and the page will load as expected.