This page needs serious attention!
---
This article does not currently meet the standards set at
Park Pedia: The Jurassic Park Wiki. Please feel free to edit it, and pose any
questions you might have on the article's talk page.

Mastodonsaurus is creatable in Jurassic World: The Game as a VIP amphibian.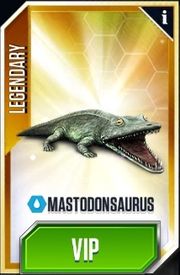 Information
Edit
Mastodontosaurus can only be obtained through VIP card packs. Each Mastodonsaurus pack costs 20,000 VIP Points.
Cost and Time to Hatch
Availability
VIP
Incubation Period
06:00:00
Placement Cost
N/A
Additional Information
Mastodonsaurus
Appearance
Edit
Level-Based Stats
Edit
| Level | Unmodified Earning Rates (12 Hours) | Feeding Costs | Life | Attack |
| --- | --- | --- | --- | --- |
| 1 | 1,260 | 9,000 | 864 | 270 |
| 2 | 2,520 | 17,750 | 912 | 285 |
| 3 | 3,780 | 26,750 | 960 | 300 |
| 4 | 5,040 | 35,500 | 1,008 | 315 |
| 5 | 6,300 | 44,500 | 1,056 | 330 |
| 6 | 7,560 | 53,250 | 1,104 | 345 |
| 7 | 8,820 | 62,250 | 1,152 | 360 |
| 8 | 10,080 | 71,000 | 1,200 | 375 |
| 9 | 11,340 | 80,000 | 1,248 | 390 |
| 10 | 12,600 | Evolve (00:00:00 @ DNA) | 1,296 | 405 |
| 11 | | | | |
| 12 | | | | |
| 13 | | | | |
| 14 | | | | |
| 15 | | | | |
| 16 | | | | |
| 17 | | | | |
| 18 | | | | |
| 19 | | | | |
| 20 | | Evolve (00:00:00 @ DNA) | | |
| 21 | | | | |
| 22 | | | | |
| 23 | | | | |
| 24 | | | | |
| 25 | | | | |
| 26 | | | | |
| 27 | | | | |
| 28 | | | | |
| 29 | | | | |
| 30 | | Evolve (00:00:00 @ DNA) | | |
| 31 | | | | |
| 32 | | | | |
| 33 | | | | |
| 34 | | | | |
| 35 | | | | |
| 36 | | | | |
| 37 | | | | |
| 38 | | | | |
| 39 | | | | |
| 40 | 403,200 | MAX | 4,788 | 1,496 |