Ad blocker interference detected!
Wikia is a free-to-use site that makes money from advertising. We have a modified experience for viewers using ad blockers

Wikia is not accessible if you've made further modifications. Remove the custom ad blocker rule(s) and the page will load as expected.
This page needs serious attention!
---
This article does not currently meet the standards set at
Park Pedia: The Jurassic Park Wiki. Please feel free to edit it, and pose any
questions you might have on the article's talk page.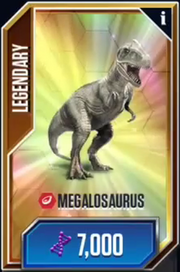 Megalosaurus was added to the game on November 27th, 2015, but is a limited tournament dinosaur. It is a legendary carnivore. It should be noted that the game has the Megalosaurus have only 2 fingers due to it sharing the model with T. rex, Giganotosaurus, Majungasaurus, and many other large carnivores in the game, when in reality, they had 3 fingers.
Information
Edit
Megalosaurus is unlocked by winning a Megalosaurus pack from either the roulette or if the player places in the top 1% of the Megalosaurus tournament.
Cost and Time to Hatch
Availability
Legendary
Incubation Period
9 Days (9:00:00)
Placement Cost
Free (1st Individual, Card Packs)

7,000 DNA
Level-Based Stats
Edit
| | | | |
| --- | --- | --- | --- |
| Level | Health | Attack | Income |
| 10 | 741 | 232 | 4368/4H |
| 20 | 1270 | 397 | 17472/4H |
| 30 | 1936 | 605 | 52416/4H |
| 40 | 2739 | 856 | 139776/4H |