This page needs serious attention!
---
This article does not currently meet the standards set at
Park Pedia: The Jurassic Park Wiki. Please feel free to edit it, and pose any
questions you might have on the article's talk page.

Metrialong can be created in Jurassic World: The Game as a super rare hybrid.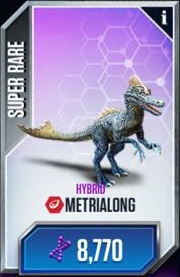 Information
Edit
As of June 29th, 2016 it can be created for the park by fusing a level 40 Metriorhynchus and level 40 Guanlong.
Cost and Time to Hatch
Availability
Super Rare
Incubation Period
16:51:00
Placement Cost
8,770 DNA
Selling Reward
4,385 DNA
Maximum Earning Rate
2,229.7 Gold/Minute
Appearance
Edit
Unlocked Trivia
Edit
Reward: 5,975 Food
"Did you know that Metrialong means 'moderate dragon'? It references its crocodilian snout, which is narrower and longer than average."
Reward: 43,190 Food
"Weighing between 300 and 350 pounds, the Metrialong is stockier than its agile Guanlong progenitor!"
Reward: 100 Bucks and 197,950 Food
"Like the Metriorhynchus, the Metrialong's diet includes fish, amphibians, and other marine reptiles."
Reward: 100 Bucks, 839,845 Food and 702 DNA
"The Metrialong has a distinct fin-like tail, an under-developed sail, and long arms suited for swimming and hunting."
Level-Based Stats
Edit
| Level | Unmodified Earning Rates (30 min) | Feeding Costs | Life | Attack |
| --- | --- | --- | --- | --- |
| 1 | 210 | 1,195 (5x = 5975) | 452 | 172 |
| 2 | 419 | 2,367 (5x = 11835) | 477 | 182 |
| 3 | 628 | 3,562 (5x = 17810) | 502 | 192 |
| 4 | 837 | 4,712 (5x = 23560) | 527 | 201 |
| 5 | 1,046 | 5,907 (5x = 29535) | 552 | 211 |
| 6 | 1,255 | 7,079 (5x = 35395) | 577 | 220 |
| 7 | 1,464 | 8,273 (5x = 41365) | 602 | 230 |
| 8 | 1,673 | 9,424 (5x = 47120) | 627 | 240 |
| 9 | 1,882 | 10,618 (5x = 53090) | 652 | 249 |
| 10 | 2,091 | Evolve (00:00:00 @ DNA) | 677 | 259 |
| 11 | 4,599 | 43,190 | 878 | 335 |
| 12 | 5,017 | 47,088 | 909 | 347 |
| 13 | 5,435 | 51,070 | 941 | 359 |
| 14 | 5,853 | 54,886 | 972 | 371 |
| 15 | 6,272 | 58,840 | 1,003 | 383 |
| 16 | 6,690 | 62,738 | 1,035 | 395 |
| 17 | 7,108 | 66,720 | 1,066 | 407 |
| 18 | 7,526 | 70,536 | 1,097 | 419 |
| 19 | 7,944 | 74,600 | 1,129 | 431 |
| 20 | 8,362 | Evolve (00:00:00 @ DNA) | 1,160 | 443 |
| 21 | | | | |
| 22 | | | | |
| 23 | | | | |
| 24 | | | | |
| 25 | | | | |
| 26 | | | | |
| 27 | | | | |
| 28 | | | | |
| 29 | | | | |
| 30 | | Evolve (00:00:00 @ DNA) | | |
| 31 | | | | |
| 32 | | | | |
| 33 | | | | |
| 34 | | | | |
| 35 | | | | |
| 36 | | | | |
| 37 | | | | |
| 38 | | | | |
| 39 | | | | |
| 40 | 66,891 | MAX | 2502 | 956 |