This page needs serious attention!
---
This article does not currently meet the standards set at
Park Pedia: The Jurassic Park Wiki. Please feel free to edit it, and pose any
questions you might have on the article's talk page.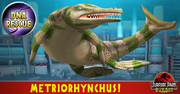 Metriorhynchus can be recived from the DNA Rescue and can then be created in the Aquatic Park in the game Jurassic Park: Builder. In the game it looks more like a mosasaur then it actually did in real life.