This page needs serious attention!
---
This article does not currently meet the standards set at
Park Pedia: The Jurassic Park Wiki. Please feel free to edit it, and pose any
questions you might have on the article's talk page.

Monolophosaurus was added to Jurassic World: The Game in the August 4, 2015 update as a rare carnivore.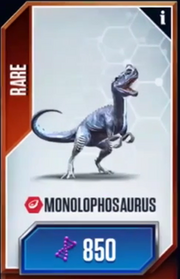 Information
Edit
It is unlocked by completing battle stage 55. More individuals can be purchased in the market for 850 DNA or found through card packs.
A level 40 Monolophosaurus can be fused with a level 40 Tapejara to create the hybrid Tapejalosaurus.
Cost and Time to Hatch
Availability
Rare
Incubation Period
04:18:00
Placement Cost
850 DNA
Maximum Earning Rate
105.6 Gold/Minute
Additional Information
Monolophosaurus
Appearance
Edit
Level-Based Stats
Edit
| Level | Unmodified Earning Rates (6 Hours) | Feeding Costs | Life | Attack |
| --- | --- | --- | --- | --- |
| 1 | 119 | 179 (5x = 895) | 124 | 39 |
| 2 | 238 | 354 (5x = 1,770) | 131 | 41 |
| 3 | 357 | 532 (5x = 2,660) | 138 | 43 |
| 4 | 476 | 703 (5x = 3,515) | 145 | 45 |
| 5 | 594 | 882 (5x = 4,410) | 152 | 48 |
| 6 | 713 | 1,056 (5x = 5,280) | 159 | 50 |
| 7 | 832 | 1,235 (5x = 6,175) | 166 | 52 |
| 8 | 951 | 1,406 (5x = 7,030) | 173 | 54 |
| 9 | 1,070 | 1,584 (5x = 7,920) | 180 | 56 |
| 10 | 1,188 | Evolve (00:30:00 @ 50 DNA) | 187 | 58 |
| 11 | 2,614 | 1,291 (5x = 6,455) | 242 | 76 |
| 12 | 2,852 | 1,406 (5x = 7,030) | 251 | 78 |
| 13 | 3,089 | 1,525 (5x = 7,625) | 259 | 81 |
| 14 | 3,327 | 1,644 (5x = 8,220) | 268 | 84 |
| 15 | 3,564 | 1,763 (5x = 8,815) | 276 | 86 |
| 16 | 3,802 | 1,878 (5x = 9,390) | 285 | 89 |
| 17 | 4,040 | 1,997 (5x = 9,985) | 294 | 92 |
| 18 | 4,277 | 2,112 (5x = 10,560) | 302 | 95 |
| 19 | 4,515 | 2,231 (5x = 11,155) | 311 | 97 |
| 20 | 4,752 | Evolve (01:00:00 @ 60 DNA) | 320 | 100 |
| 21 | 9,980 | 14,801 | 394 | 123 |
| 22 | 10,455 | 15,494 | 404 | 126 |
| 23 | 10,930 | 16,203 | 415 | 130 |
| 24 | 11,405 | 16,896 | 425 | 133 |
| 25 | 11,880 | 17,606 | 435 | 136 |
| 26 | 12,356 | 18,299 | 446 | 139 |
| 27 | 12,831 | 19,008 | 456 | 143 |
| 28 | 13,306 | 19,701 | 467 | 146 |
| 29 | 13,781 | 20,427 | 477 | 149 |
| 30 | 14,256 | Evolve (02:00:00 @ 70 DNA) | 487 | 152 |
| 31 | 29,63 | 23,463 | 581 | 181 |
| 32 | 30,413 | 24,239 | 593 | 185 |
| 33 | 31,364 | 24,998 | 605 | 189 |
| 34 | 32,314 | 25,740 | 617 | 193 |
| 35 | 33,264 | 26,516 | 629 | 197 |
| 36 | 34,215 | 27,258 | 641 | 200 |
| 37 | 35,165 | 28,017 | 653 | 204 |
| 38 | 36,116 | 28,760 | 665 | 208 |
| 39 | 37,066 | 29,535 | 677 | 212 |
| 40 | 38,016 | Fuse (04:00:00 @ 200 DNA) | 689 | 215 |