This page needs serious attention!
---
This article does not currently meet the standards set at
Park Pedia: The Jurassic Park Wiki. Please feel free to edit it, and pose any
questions you might have on the article's talk page.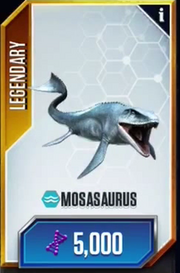 In Jurassic World: The Game, Mosasaurus is a legendary surface sea reptile. It was only available in either winning it in the Mosasaurus tournament or win it by spinning the tournament wheel and landing on it, but it now can be obtained by either purchasing an Aquatic Card Pack, or winning an Aquatic Card Pack that contains it from the arena.