Nasutoceratops
is creatable in
Jurassic World: The Game
as a Rare herbivore.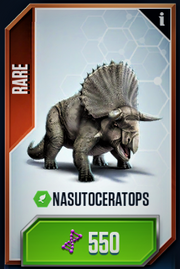 Information
Edit
It is unlocked by completing battle stage 18. More individuals can be purchased in the market for 550 DNA or found through card packs.
As of September 30th 2015, a level 40 Nasutoceratops can be mixed with a level 40 Pachycephalosaurus to make the hybrid Pachyceratops.
Cost and Time to Hatch
Availability
Rare
Incubation Period
01:53:00
Placement Cost
550 DNA
Selling Reward
275 DNA
Maximum Earning Rate
111.61 Gold/Minute
Additional Information
Nasutoceratops
Appearance
Edit
Unlocked Trivia
Edit
Reward: 
"Did you know that Nasutoceratops means 'large-nosed horn-face'? It has large horns that resemble those of cattle!"
Reward: 
"The Nasutoceratops originally lived in the American Southwest, in what is now the state of Utah."
Reward: 
"During the late Cretaceous Period, the Nasutoceratops lived on a large floodplain in a wet and humid climate."
Reward: 
"The Nasutoceratops has a large frill lined with low crescents of bone instead of spikes."
Level-Based Stats
Edit
Level
Unmodified Earning Rates
(3 hours)
Feeding Costs
Life
Attack
1
63
118 (5x = 590)
88
23
2
126
234 (5x = 1,170)
93
24
3
189
351 (5x = 1,755)
98
25
4
252
465 (5x = 2,325)
103
26
5
314
583 (5x = 2,915)
108
28
6
377
698 (5x = 3,490)
113
29
7
440
816 (5x = 4,080)
118
30
8
503
929 (5x = 4,645)
123
31
9
566
1,047 (5x = 5,235)
127
33
10
628
Evolve (00:30:00 @ 50 DNA)
132
34
11
1,382
853 (5x = 4,265)
172
44
12
1,507
929 (5x = 4,645)
178
45
13
1,633
1,008 (5x = 5,040)
184
47
14
1,758
1,086 (5x = 5,430)
190
49
15
1,884
1,165 (5x = 5,825)
196
50
16
2,010
1,241 (5x = 6,205)
202
52
17
2,135
1,319 (5x = 6,595)
208
53
18
2,261
1,396 (5x = 6,980)
214
55
19
2,386
1,474 (5x = 7,370)
221
56
20
2,512
Evolve (01:00:00 @ 60 DNA)
227
58
21
5,274
1,956 (5x = 9,780)
279
71
22
5,525
2,048 (5x = 10,240)
287
73
23
5,777
2,141 (5x = 10,705)
294
75
24
6,028
2,233 (5x = 11,165)
301
77
25
6,279
2,327 (5x = 11,635)
309
79
26
6,530
2,418 (5x = 12,090)
316
81
27
6,781
2,512 (5x = 12,560)
324
83
28
7,032
2,603 (5x = 13,015)
331
85
29
7,283
2,699 (5x = 13,495)
338
86
30
7,535
Evolve (02:00:00 @ 70 DNA)
346
88
31
15,571
15,500
412
105
32
16,073
16,013
420
107
33
16,575
16,514
429
110
34
17,078
17,004
438
112
35
17,580
17,517
446
114
36
18,082
18,007
455
116
37
18,585
18,509
463
118
38
19,087
18,999
472
121
39
19,589
19,511
480
123
40
20,091
Fuse (04:00:00 @ 200 DNA)
489
125