Ad blocker interference detected!
Wikia is a free-to-use site that makes money from advertising. We have a modified experience for viewers using ad blockers

Wikia is not accessible if you've made further modifications. Remove the custom ad blocker rule(s) and the page will load as expected.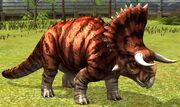 Nasutoceratops is a creatable dinosaur in Jurassic World: The Game.
Information
Edit
Since September 30th 2015, a fully maxed Nasutoceratops could be mixed with Pachycephalosaurus to make a Pachyceratops.
Information
Edit
It is usually unlocked by beating battle stage 18. More individuals can be purchased in the game's store or through card packs.
Cost and Time to Hatch
Availability
Rare
Incubation Period
01:53:00
Placement Cost
550 DNA
Additional Information
Nasutoceratops
Level-Based Stats
Edit
Level
Unmodified Earning Rates
(3 hours)
Feeding Costs
Life
Attack
1
63
118 (5x = 590)
88
23
2
126
234 (5x = 1,170)
93
24
3
189
351 (5x = 1,755)
98
25
4
252
465 (5x = 2,325)
103
26
5
314
583 (5x = 2,915)
108
28
6
377
698 (5x = 3,490)
113
29
7
440
816 (5x = 4,080)
118
30
8
503
929 (5x = 4,645)
123
31
9
566
1,047 (5x = 5,235)
127
33
10
628
Evolve (00:30:00 @ 50 DNA)
132
34
11
1,382
853 (5x = 4,265)
172
44
12
1,507
929 (5x = 4,645)
178
45
13
1,633
1,008 (5x = 5,040)
184
47
14
1,758
1,086 (5x = 5,430)
190
49
15
1,884
1,165 (5x = 5,825)
196
50
16
2,010
1,241 (5x = 6,205)
202
52
17
2,135
1,319 (5x = 6,595)
208
53
18
2,261
1,396 (5x = 6,980)
214
55
19
2,386
1,474 (5x = 7,370)
221
56
20
2,512
Evolve (01:00:00 @ 60 DNA)
227
58
21
5,274
1,956 (5x = 9,780)
279
71
22
5,525
2,048 (5x = 10,240)
287
73
23
5,777
2,141 (5x = 10,705)
294
75
24
6,028
2,233 (5x = 11,165)
301
77
25
6,279
2,327 (5x = 11,635)
309
79
26
6,530
2,418 (5x = 12,090)
316
81
27
6,781
2,512 (5x = 12,560)
324
83
28
7,032
2,603 (5x = 13,015)
331
85
29
7,283
2,699 (5x = 13,495)
338
86
30
7,535
Evolve (02:00:00 @ 70 DNA)
346
88
31
(5x = )
32
(5x = )
33
(5x = )
34
(5x = )
35
(5x = )
36
(5x = )
37
(5x = )
38
(5x = )
39
(5x = )
40
2,009
Fuse (04:00:00 @ 200 DNA)
489
125