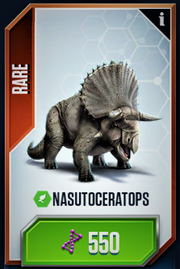 Nasutoceratops is a creatable dinosaur in Jurassic World: The Game.
Information
Edit
It is unlocked by completing battle stage 18. More individuals can be purchased in the market or found through card packs.
As of September 30th 2015, a level 40 Nasutoceratops can be mixed with a level 40 Pachycephalosaurus to make the hybrid Pachyceratops.
Cost and Time to Hatch
Availability
Rare
Incubation Period
01:53:00
Placement Cost
550 DNA
Additional Information
Nasutoceratops
Appearance
Edit
| | |
| --- | --- |
| Level 1-10 | |
| Level 11-20 | |
| Level 21-30 | |
| Level 31-40 | |
Level-Based Stats
Edit
Level
Unmodified Earning Rates
(3 hours)
Feeding Costs
Life
Attack
1
63
118 (5x = 590)
88
23
2
126
234 (5x = 1,170)
93
24
3
189
351 (5x = 1,755)
98
25
4
252
465 (5x = 2,325)
103
26
5
314
583 (5x = 2,915)
108
28
6
377
698 (5x = 3,490)
113
29
7
440
816 (5x = 4,080)
118
30
8
503
929 (5x = 4,645)
123
31
9
566
1,047 (5x = 5,235)
127
33
10
628
Evolve (00:30:00 @ 50 DNA)
132
34
11
1,382
853 (5x = 4,265)
172
44
12
1,507
929 (5x = 4,645)
178
45
13
1,633
1,008 (5x = 5,040)
184
47
14
1,758
1,086 (5x = 5,430)
190
49
15
1,884
1,165 (5x = 5,825)
196
50
16
2,010
1,241 (5x = 6,205)
202
52
17
2,135
1,319 (5x = 6,595)
208
53
18
2,261
1,396 (5x = 6,980)
214
55
19
2,386
1,474 (5x = 7,370)
221
56
20
2,512
Evolve (01:00:00 @ 60 DNA)
227
58
21
5,274
1,956 (5x = 9,780)
279
71
22
5,525
2,048 (5x = 10,240)
287
73
23
5,777
2,141 (5x = 10,705)
294
75
24
6,028
2,233 (5x = 11,165)
301
77
25
6,279
2,327 (5x = 11,635)
309
79
26
6,530
2,418 (5x = 12,090)
316
81
27
6,781
2,512 (5x = 12,560)
324
83
28
7,032
2,603 (5x = 13,015)
331
85
29
7,283
2,699 (5x = 13,495)
338
86
30
7,535
Evolve (02:00:00 @ 70 DNA)
346
88
31
(5x = )
32
(5x = )
33
(5x = )
34
(5x = )
35
(5x = )
36
(5x = )
37
(5x = )
38
(5x = )
39
(5x = )
40
2,009
Fuse (04:00:00 @ 200 DNA)
489
125