Ornithomimus

Jurassic Park Institute Artwork

Name meaning

"Bird mimic"

Diet

Omnivore

Height

2.1 m (7 feet)

Length

3 m (10 feet)

Weight

375 lb

Location

Colorado, Maryland, Montana, Utah, Wyoming (USA) and Alberta (Canada)

Game appearances

Template Source
Ornithomimus is an ostrich dinosaur from the Late Cretaceous period of Colorado and Montana. These dinosaurs were slender, light, and probably extremely fast. While there has always been disagreement over their diet, it has been thought that they used their signature bony beak to either pluck vegetation or attack prey.[1]
| | |
| --- | --- |
| | Wikipedia has a more detailed and comprehensive article on Ornithomimus |
Video games
Edit
References
Edit
↑

Jurassic Park Institute, Dino News, Dinosaurs with Beaks like Ducks.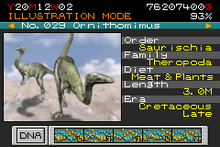 .
Ad blocker interference detected!
Wikia is a free-to-use site that makes money from advertising. We have a modified experience for viewers using ad blockers

Wikia is not accessible if you've made further modifications. Remove the custom ad blocker rule(s) and the page will load as expected.