This page needs serious attention!
---
This article does not currently meet the standards set at
Park Pedia: The Jurassic Park Wiki. Please feel free to edit it, and pose any
questions you might have on the article's talk page.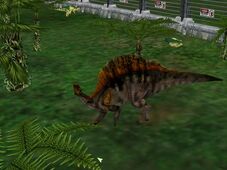 Ouranosaurus was featured as a two star large herbivore in Jurassic Park: Operation Genesis, and they serve as the main prey for Spinosaurus and Carcharodontosaurus. They also seem to be friendly with Edmontosaurus, even though the two dinosaurs lived on two totally different continents. However being a distant cousin to the later Ornithopod, this would be considered accurate.