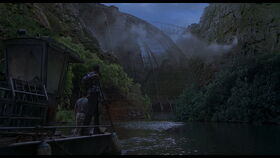 "It's a birdcage."
The following article contains spoilers for an upcoming or recent installment in the Jurassic Park Franchise. Please be careful viewing this article if you do not wish to be spoiled.
"I don't control the Raptors, it's a relationship. Based on mutual respect."

    Owen Grady is a dinosaur researcher employed by Jurassic World, and one of two main protagonists in Jurassic World, the other being Claire Dearing.[2] He conducts a behavioral research on Velociraptors.
Behind the scenes
Edit
A popular fan theory is that Owen Grady is the Volunteer Boy at the Dig Site in Jurassic Park who Dr. Alan Grant scares after he calls a recently uncovered Velociraptor "a six-foot turkey".
In a deleted scene from Jurassic World, Owen reveals he has little respect for humanity as a species, declaring humans as "overrated". He expresses his feelings that socializing with other humans only complicates one's life, seemingly sympathizing with the choices Claire had made leading up to her distancing herself from her family. This is seemingly incongruent with Owen's other interactions with Claire, in which he criticizes her for her coldness towards her nephews, and therefore, might not be canon to his character.
References
Edit