This page needs serious attention!
---
This article does not currently meet the standards set at
Park Pedia: The Jurassic Park Wiki. Please feel free to edit it, and pose any
questions you might have on the article's talk page.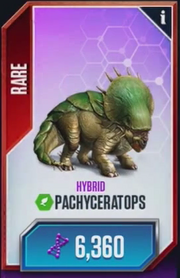 Pachyceratops is of the hybrids that can be created in Jurassic World: The Game as a super rare hybrid.
Information
Edit
It were able to created for the player's park on September 30th, 2015. It is a hybrid of a Level 40 Pachycephalosaurus and a Level 40 Nasutoceratops. Additional individuals can be purchased in the market for 6,360 DNA.
Appearance
Edit
Unlocked Trivia
Edit
Reward:
"Did you know that Pachyceratops is a misnomer? Its name means 'thick-horned face'!"
Reward:
"Instead of two, large, and very deadly horns, the Pachyceratops has a 10 inch thick skull!"
Reward:
"Like the Nasutoceratops, the Pachyceratops has the same signature neck frill. Its back is also heavily armored with fused plate."
Reward:
"Male Pachyceratops establish dominance within their herd by butting heads. Extremely territorial, they've been known to ram intruders!"
Level-Based Stats
Edit
| Level  | Unmodified Earning Rate () | Feeding Costs | Life | Attack |
| --- | --- | --- | --- | --- |
| 1 | | | | |
| 2 | | | | |
| 3 | | | | |
| 4 | | | | |
| 5 | | | | |
| 6 | | | | |
| 7 | | | | |
| 8 | | | | |
| 9 | | | | |
| 10 | | Evolve (00:00:00 @ DNA) | | |
| 11 | | | | |
| 12 | | | | |
| 13 | | | | |
| 14 | | | | |
| 15 | | | | |
| 16 | | | | |
| 17 | | | | |
| 18 | | | | |
| 19 | | | | |
| 20 | | Evolve (00:00:00 @ DNA) | | |
| 21 | | | | |
| 22 | | | | |
| 23 | | | | |
| 24 | | | | |
| 25 | | | | |
| 26 | | | | |
| 27 | | | | |
| 28 | | | | |
| 29 | | | | |
| 30 | | Evolve (00:00:00 @ DNA) | | |
| 31 | | | | |
| 32 | | | | |
| 33 | | | | |
| 34 | | | | |
| 35 | | | | |
| 36 | | | | |
| 37 | | | | |
| 38 | | | | |
| 39 | | | | |
| 40 | | MAX | | |