This page needs serious attention!
---
This article does not currently meet the standards set at
Park Pedia: The Jurassic Park Wiki. Please feel free to edit it, and pose any
questions you might have on the article's talk page.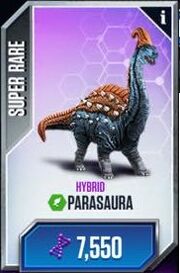 Parasaura is able to be created in Jurassic World: The Game as a super rare hybrid.
Information
Edit
It was able to created for the player's park on June 29th, 2016. It is a genetically modified hybrid of Parasaurolophus and Bonitasaura.
Appearance
Edit
Unlocked Trivia
Edit
Reward:
"Did you know that Parasaura means 'near lizard?'"
Reward:
"Like its progenitor, the Parasaurolophus, the Parasaura has a beak which it can use to crop vegetation."
Reward:
"Unlike other titanosaurs, the Parasaurua has a relatively short neck. An adult Parasaura can grow up to 32 feet in length!"
Reward:
"Did you know that the Parasaura has a beautiful singing voice? Their cries can be heard floating across Jurassic World!"
Level-Based Stats
Edit
| Level | Unmodified Earning Rate () | Feeding Costs | Life | Attack |
| --- | --- | --- | --- | --- |
| 1 | | | | |
| 2 | | | | |
| 3 | | | | |
| 4 | | | | |
| 5 | | | | |
| 6 | | | | |
| 7 | | | | |
| 8 | | | | |
| 9 | | | | |
| 10 | | Evolve (00:00:00 @ DNA) | | |
| 11 | | | | |
| 12 | | | | |
| 13 | | | | |
| 14 | | | | |
| 15 | | | | |
| 16 | | | | |
| 17 | | | | |
| 18 | | | | |
| 19 | | | | |
| 20 | | Evolve (00:00:00 @ DNA) | | |
| 21 | | | | |
| 22 | | | | |
| 23 | | | | |
| 24 | | | | |
| 25 | | | | |
| 26 | | | | |
| 27 | | | | |
| 28 | | | | |
| 29 | | | | |
| 30 | | Evolve (00:00:00 @ DNA) | | |
| 31 | | | | |
| 32 | | | | |
| 33 | | | | |
| 34 | | | | |
| 35 | | | | |
| 36 | | | | |
| 37 | | | | |
| 38 | | | | |
| 39 | | | | |
| 40 | | MAX | | |