Ad blocker interference detected!
Wikia is a free-to-use site that makes money from advertising. We have a modified experience for viewers using ad blockers

Wikia is not accessible if you've made further modifications. Remove the custom ad blocker rule(s) and the page will load as expected.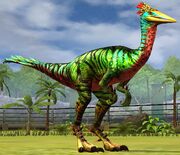 Pelecanimimus is a dinosaur who appears in Jurassic World: The Game. It is classified as a herbivore in-game, although in reality it would have likely eaten fish.
Information
Edit
It is usually unlocked by beating battle stage 24. More individuals can be purchased in the game's store or through card packs.

Can be fused with Hatzegopteryx to create hybrid Pelecanipteryx.
Cost and Time to Hatch
Availability
Common
Incubation Period
00:26:00
Placement Cost
170 DNA
Additional Information
Pelecanimimus
Level-Based Stats
Edit
| Level | Unmodified Earning Rates (3 hours) | Feeding Costs | Life | Attack |
| --- | --- | --- | --- | --- |
| 1 | 41 | 51 (5x = 255) | 48 | 15 |
| 2 | 81 | 99 (5x = 495) | 51 | 16 |
| 3 | 121 | 149 (5x = 745) | 53 | 17 |
| 4 | 161 | 198 (5x = 990) | 56 | 18 |
| 5 | 201 | 248 (5x = 1,240) | 59 | 18 |
| 6 | 241 | 297 (5x = 1,485) | 61 | 19 |
| 7 | 281 | 347 (5x = 1,735) | 64 | 20 |
| 8 | 321 | 395 (5x = 1,975) | 67 | 21 |
| 9 | 361 | 445 (5x = 2,225) | 69 | 22 |
| 10 | 401 | Evolve (00:05:00 @ 40 DNA) | 72 | 23 |
| 11 | 881 | 544 (5x = 2,720) | 93 | 29 |
| 12 | 961 | 593 (5x = 2,965) | 97 | 30 |
| 13 | 1,041 | 643 (5x = 3,215) | 100 | 31 |
| 14 | 1,121 | 693 (5x = 3,465) | 103 | 32 |
| 15 | 1,201 | 743 (5x = 3,715) | 107 | 33 |
| 16 | 1,282 | 791 (5x = 3,955) | 110 | 34 |
| 17 | 1,362 | 841 (5x = 4,205) | 113 | 35 |
| 18 | 1,442 | 890 (5x = 4,450) | 117 | 36 |
| 19 | 1,522 | 940 (5x = 4,700) | 120 | 38 |
| 20 | 1,602 | Evolve (00:30:00 @ 50 DNA) | 123 | 39 |
| 21 | 3,363 | 1,247 (5x = 6,235) | 152 | 48 |
| 22 | 3,523 | 1,306 (5x = 6,530) | 156 | 49 |
| 23 | 3,683 | 1,365 (5x = 6,825) | 160 | 50 |
| 24 | 3,844 | 1,424 (5x = 7,120) | 164 | 51 |
| 25 | 4,004 | 1,484 (5x = 7,420) | 168 | 53 |
| 26 | 4,164 | 1,524 (5x = 7,620) | 172 | 54 |
| 27 | 4,324 | 1,602 (5x = 8,010) | 176 | 55 |
| 28 | 4,484 | 1,660 (5x = 8,300) | 180 | 56 |
| 29 | 4,644 | 1,721 (5x = 8,605) | 184 | 58 |
| 30 | 4,804 | Evolve (01:00:00 @ 60 DNA) | 188 | 59 |
| 31 | | (5x = ) | | |
| 32 | | (5x = ) | | |
| 33 | | (5x = ) | | |
| 34 | | (5x = ) | | |
| 35 | | (5x = ) | | |
| 36 | | (5x = ) | | |
| 37 | | (5x = ) | | |
| 38 | | (5x = ) | | |
| 39 | | (5x = ) | | |
| 40 | 12,811 | Fuse (04:00:00 @ 100 DNA) | 266 | 83 |