Plesiosaurus from Jurassic World: The Game

Name meaning

"near to reptile"

Diet

Piscivore

Length

3 to 5 meters (10 to 16 ft)

Weight

1, 000 lbs (453.5 kilograms)

Location

Europe

Birth type

Live

Movie canon appearances

Jurassic World (Hologram only)

Game appearances

Toy appearances

Template Source
Plesiosaurus was a genus of marine sauropterygian reptiles that lived during the Jurassic Period. The type species of this genus is Plesiosaurus dolichodeirus. Skeletons are found in Europe.
Pleisiosaurus is distinguished by its small head, short snout, long and slender neck, broad turtle-like body, a short tail, and two pairs of large, elongated paddles. Plesiosaurus fed on belemnites, fish, and other prey.
Some traces of skin discovered suggest that it was smooth, not scaly.
| | |
| --- | --- |
| | Wikipedia has a more detailed and comprehensive article on Plesiosaurus |
A metal figurine of a plesiosaur (together with a Iguanodon figurine in one box) appeared in the Die-Cast: Jurassic Park toy line in 1993. It also came with a card of Plesiosaurus.
Behind the scenes
Edit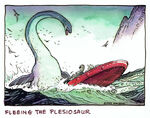 In the scrapped Jurassic Park animated series one of the ideas for scenes in the series was a Plesiosaurus pursuing Tim and Lex Murphy while they were in an inflatable boat.[1]
The Plesiosaur Pond was an attraction originally meant to appear in Jurassic World but was cut from the final film. It was to be a large pool like the Jurassic World Lagoon inhabitated by Plesiosaurus and several unidentified species of ichthyosaurs. Visitors to Jurassic World would be able to visit the attraction by boarding a submarine attached to a monorail.[2]

References
Edit
↑ williamstout.com - Original Jurassic Park Art – Fleeing the Plesiosaur (August 12, 2015) Retrieved from http://www.williamstout.com/news/journal/?p=4798
↑ davelowerystoryboards - Jurassic World (July 31, 2015) Retrieved from http://dlstoryboards.blogspot.com/2015/07/jurassic-world_31.html
Ad blocker interference detected!
Wikia is a free-to-use site that makes money from advertising. We have a modified experience for viewers using ad blockers

Wikia is not accessible if you've made further modifications. Remove the custom ad blocker rule(s) and the page will load as expected.