Plesiosaurus was added to the Aquatic Park of Jurassic World: The Game on March 16, 2016 as a legendary surface creature.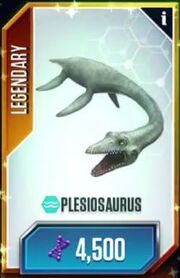 Information
Edit
Plesiosaurus is unlocked by completing its battle event. Additional individuals can be purchased in the market for 4,500 DNA or found through card packs.
Cost and Time to Hatch
Availability
Legendary
Incubation Period
94:00:00
Placement Cost
4,500 DNA
Selling Reward
2,250 DNA
Maximum Earning Rate
201.6 Gold/Minute
Additional Information
Plesiosaurus
Appearance
Edit
Unlocked Trivia
Edit
Reward: 3,240 Food
"Feeling the Plesiosaurus was closer to modern reptiles, William Conybeare and Henry De la Beche named it 'near lizard'."
Reward: 27,495 Food
"
Reward: 100 Bucks and 126,000 Food
"
Reward: 100 Bucks, 532,530 Food and 360 DNA
"
Level-Based Stats
Edit
Level
Unmodified Earning Rates
(12 Hours)
Feeding Costs
Life
Attack
1
454
648 (5x = 3,240)
342
87
2
908
1,278 (5x = 6,390)
361
92
3
1,361
1,926 (5x = 9,630)
380
97
4
1,815
2,556 (5x = 12,780)
399
102
5
2,268
3,204 (5x = 16,020)
418
107
6
2,722
3,834 (5x = 19,170)
437
112
7
3,176
4,482 (5x = 22,410)
456
117
8
3,629
5,112 (5x = 25,560)
475
122
9
4,083
5,760 (5x = 28,800)
494
126
10
4,536
Evolve (02:00:00 @ 70 DNA)
513
131
11
9,980
5,499 (5x = 27,495)
665
170
12
10,887
6,003 (5x = 30,015)
689
176
13
11,794
6,507 (5x = 32,535)
713
182
14
12,701
6,993 (5x = 34,965)
737
188
15
13,608
7,488 (5x = 37,440)
760
194
16
14,516
7,992 (5x = 39,960)
784
200
17
15,423
8,496 (5x = 42,480)
808
207
18
16,330
8,991 (5x = 44,955)
832
213
19
17,237
9,495 (5x = 47,475)
855
219
20
18,144
Evolve (04:00:00 @ 80 DNA)
879
225
21
(5x = )
22
(5x = )
23
(5x = )
24
(5x = )
25
(5x = )
26
(5x = )
27
(5x = )
28
(5x = )
29
(5x = )
30
54,432
Evolve (08:00:00 @ 90 DNA)
1,340
343
31
(5x = )
32
(5x = )
33
(5x = )
34
(5x = )
35
(5x = )
36
(5x = )
37
(5x = )
38
(5x = )
39
(5x = )
40
145,152
Max
1,896
485