Pliosaurus was added to the Aquatic Park of Jurassic World: The Game on June 29, 2016 as a Legendary reef creature.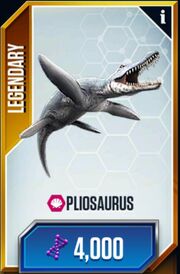 Information
Edit
Pliosaurus is unlocked by completing its battle event. Additional individuals can be purchased in the market for 4,000 DNA or found through card packs.
Cost and Time to Hatch
Availability
Legendary
Incubation Period
00:00:00
Placement Cost
4,000 DNA
Selling Reward
2,000 DNA
Maximum Earning Rate
??? Gold/Minute
Additional Information
Pliosaurus
Appearance
Edit
Unlocked Trivia
Edit
Reward:
"
Reward:
"
Reward:
"
Reward:
"
Level-Based Stats
Edit
| Level | Unmodified Earning Rates (12 Hours) | Feeding Costs | Life | Attack |
| --- | --- | --- | --- | --- |
| 1 | 404 | 576 (5x = 2,880) | 304 | 78 |
| 2 | 807 | 1,136 (5x = 5,680) | 321 | 82 |
| 3 | 1,210 | 1,712 (5x = 8,560) | 338 | 86 |
| 4 | 1,613 | 2,272 (5x = 11,360) | 355 | 91 |
| 5 | 2,016 | 2,848 (5x = 13,740) | 372 | 95 |
| 6 | 2,420 | 3,408 (5x = 17,040) | 389 | 99 |
| 7 | 2,823 | 3,984 (5x = 19,920) | 406 | 104 |
| 8 | 3,226 | 4,544 (5x = 22,720) | 422 | 108 |
| 9 | 3,629 | 5,120 (5x = 25,600) | 439 | 112 |
| 10 | 4,032 | Evolve (00:00:00 @ DNA) | 456 | 117 |
| 11 | | (5x = ) | | |
| 12 | | (5x = ) | | |
| 13 | | (5x = ) | | |
| 14 | | (5x = ) | | |
| 15 | | (5x = ) | | |
| 16 | | (5x = ) | | |
| 17 | | (5x = ) | | |
| 18 | | (5x = ) | | |
| 19 | | (5x = ) | | |
| 20 | | Evolve (00:00:00 @ DNA) | | |
| 21 | | (5x = ) | | |
| 22 | | (5x = ) | | |
| 23 | | (5x = ) | | |
| 24 | | (5x = ) | | |
| 25 | | (5x = ) | | |
| 26 | | (5x = ) | | |
| 27 | | (5x = ) | | |
| 28 | | (5x = ) | | |
| 29 | | (5x = ) | | |
| 30 | | Evolve (00:00:00 @ DNA) | | |
| 31 | | (5x = ) | | |
| 32 | | (5x = ) | | |
| 33 | | (5x = ) | | |
| 34 | | (5x = ) | | |
| 35 | | (5x = ) | | |
| 36 | | (5x = ) | | |
| 37 | | (5x = ) | | |
| 38 | | (5x = ) | | |
| 39 | | (5x = ) | | |
| 40 | | Max | | |