Polacanthus was a Polacanthidae Ankylosaur genus that lived 132 to 112 million years ago. It was first discovered in England, over 150 years ago by a Reverand. Polacanthus grew to between 4 to 5 metres (13 to 16 ft) long. It would have weighed about a tonne.
| | |
| --- | --- |
| | Wikipedia has a more detailed and comprehensive article on Polacanthus |
Polacanthus was never appeared in any of the original novels or movies.
Jurassic Park inspired games
Edit
Polacanthus is no. 069 of the Herbivore Twos that can be created in Jurassic Park III: Park Builder.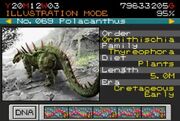 Ad blocker interference detected!
Wikia is a free-to-use site that makes money from advertising. We have a modified experience for viewers using ad blockers

Wikia is not accessible if you've made further modifications. Remove the custom ad blocker rule(s) and the page will load as expected.