Pteranodon is creatable in Jurassic World: The Game as a Legendary pterosaur.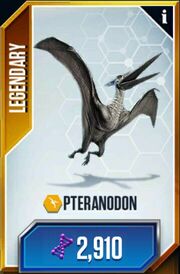 Information
Edit
It is unlocked by completing battle stage 22. More individuals can be purchased in the market for 2,910 DNA or found through card packs.
Cost and Time to Hatch
Availability
Legendary
Incubation Period
39:32:00
Placement Cost
2,910 DNA
Selling Reward
1,455 DNA
Maximum Earning Rate
297.99 Gold/Minute
Additional Information
Pteranodon
Appearance
Edit
Unlocked Trivia
Edit
Reward: 2,100 Food
"Did you know that the Pteranodon is best known as a 'Pterodactyl'?"
Reward: 17,785 Food
"There were three variations of the Pteranodon created by InGen. The first version created for Jurassic World is closer to the original."
Reward: 100 Dino Bucks and 81,480 Food
"The Pteranodon recreated for Jurassic World is closer to the original animal, with a wingspan of 26-33 feet!"
Reward: 100 Dino Bucks, 344,370 Food and 233 DNA
"Did you know that Pteranodon means 'toothless wing'? Its name is a misnomer, as the Pteranodon actually has teeth!'
Level-Based Stats
Edit
| Level | Unmodified Earning Rates (3 Hours) | Feeding Costs | Life | Attack |
| --- | --- | --- | --- | --- |
| 1 | 168 | 420 (5x = 2,100) | 274 | 105 |
| 2 | 336 | 827 (5x = 4,135) | 290 | 111 |
| 3 | 503 | 1,246 (5x = 6,230) | 305 | 116 |
| 4 | 671 | 1,653 (5x = 8,265) | 320 | 122 |
| 5 | 839 | 2,072 (5x = 10,360) | 335 | 128 |
| 6 | 1,006 | 2,480 (5x = 12,400) | 351 | 134 |
| 7 | 1,174 | 2,899 (5x = 14,495) | 366 | 140 |
| 8 | 1,341 | 3,306 (5x = 16,530) | 381 | 146 |
| 9 | 1,509 | 3,725 (5x = 18,625) | 396 | 151 |
| 10 | 1,677 | Evolve (02:00:00 @ 70 DNA) | 412 | 157 |
| 11 | 3,688 | 17,781 | 533 | 204 |
| 12 | 4,023 | 19,410 | 553 | 211 |
| 13 | 4,359 | 21,040 | 572 | 218 |
| 14 | 4,694 | 22,611 | 591 | 226 |
| 15 | 5,029 | 24,212 | 610 | 233 |
| 16 | 5,364 | 25,841 | 629 | 240 |
| 17 | 5,699 | 27,471 | 648 | 247 |
| 18 | 6,035 | 29,071 | 667 | 255 |
| 19 | 6,370 | 30,701 | 686 | 262 |
| 20 | 6,705 | Evolve (04:00:00 @ 80 DNA) | 705 | 269 |
| 21 | 14,080 | 81,480 | 869 | 332 |
| 22 | 14,751 | 85,263 | 892 | 341 |
| 23 | 15,421 | 89,308 | 914 | 349 |
| 24 | 16,092 | 93,062 | 937 | 358 |
| 25 | 16,762 | 97,020 | 960 | 367 |
| 26 | 17,433 | 100,832 | 983 | 376 |
| 27 | 18,103 | 104,731 | 1,006 | 384 |
| 28 | 18,773 | 108,573 | 1,029 | 393 |
| 29 | 19,444 | 112,472 | 1,052 | 402 |
| 30 | 20,114 | Evolve (08:00:00 @ 90 DNA) | 1,075 | 410 |
| 31 | 41,569 | 344,370 | 1,280 | 489 |
| 32 | 42,910 | 355,224 | 1,307 | 499 |
| 33 | 44,251 | 366,690 | 1,334 | 509 |
| 34 | 45,592 | 377,602 | 1.360 | 520 |
| 35 | 46,933 | 388,835 | 1,387 | 530 |
| 36 | 48,274 | 399,747 | 1,414 | 540 |
| 37 | 49,615 | 411,038 | 1,440 | 550 |
| 38 | 50,956 | 421,950 | 1,467 | 560 |
| 39 | 52,297 | 433,096 | 1,494 | 571 |
| 40 | 53,638 | Max | 1520 | 581 |