"Experience a world of dinosaurs that's larger-than-life in our multi-screen IMAX theatre. "
—Park Map(src)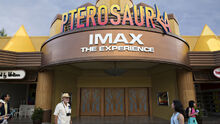 The Pterosauria: The IMAX Experience movie theater shows the history and future of dinosaurs and Jurassic World. The audio is 2X louder than a Tyrannosaurus rex. The theater has 890 seats and the screen is bigger than an Apatosaurus at 100' by 140'. The concession stand sells piping hot Dino Dogs.[1]
Behind the scene
Edit
On JurassicWorld.com, it is said that T. rex males have mistaken the digital sound of the theater as that of a potential mate.[1] It is unclear what the website means by this statement since there is no evidence of Tyrannosaurus males on Isla Nublar in the film canon.
The Dino Dogs might be a reference to Jurassic Park: Operation Genesis. In Jurassic Park: Operation Genesis, Dino Dogs could be bought at the Kiosk as well as Rex Burgers, Sandwiches, Paleo Salads, Fun Fries, and Thrillen Chili.
References
Edit
↑ 1.0 1.1 JurassicWorld.com - Pterosauria: The IMAX Experience, Retrieved from http://www.jurassicworld.com/park-map/imax-theatre/
Ad blocker interference detected!
Wikia is a free-to-use site that makes money from advertising. We have a modified experience for viewers using ad blockers

Wikia is not accessible if you've made further modifications. Remove the custom ad blocker rule(s) and the page will load as expected.