Quetzalcoatlus
is creatable in
Jurassic World: The Game
as a Super Rare pterosaur.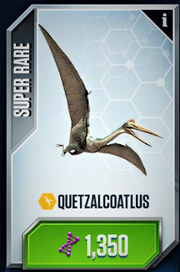 Information
It is unlocked by completing battle stage 16. More individuals can be purchased in the market for 1,350 DNA or found through card packs.


Cost and Time to Hatch
Availability
Super Rare
Incubation Period
09:03:00
Placement Cost
1,350 DNA
Selling Reward
675 DNA
Maximum Earning Rate
207.361 Gold/Minute
Additional Information
Quetzalcoatlus
Appearance
Unlocked Trivia
Evo 1
Reward: 1,460 Food
"Quetzalcoatlus fossils were discovered in 1971 in the state of Texas, where during the Late Cretaceous Period they had lived."
Evo 2
Reward: 9,520 Food
"Did you know that this airplane-sized pterosaur is one of the largest flying animals of all time?!"
Evo 3
Reward: 54 Bucks and 43,620 Food
"With a wingspan of around 40 feet, the Quetzalcoatlus is the size of a MIG-29 fighter jet!"
Evo 4
Reward: 100 Bucks, 184,300 Food and 128 DNA
"
Level-Based Stats
| Level | Unmodified Earning Rates (3 Hours) | Feeding Costs | Life | Attack |
| --- | --- | --- | --- | --- |
| 1 | 117 | 292 (5x = 1,460) | 161 | 50 |
| 2 | 234 | 576 (5x = 2,880) | 170 | 53 |
| 3 | 350 | 867 (5x = 4,335) | 179 | 56 |
| 4 | 467 | 1,151 (5x = 5,755) | 187 | 59 |
| 5 | 584 | 1,442 (5x = 7,210) | 196 | 61 |
| 6 | 700 | 1,726 (5x = 8,630) | 205 | 64 |
| 7 | 817 | 2,017 (5x = 10,085) | 214 | 67 |
| 8 | 934 | 2,301 (5x = 11,505) | 223 | 70 |
| 9 | 1,050 | 2,592 (5x = 12,960) | 232 | 73 |
| 10 | 1,167 | Evolve (01:00:00 @ 60 DNA) | 241 | 75 |
| 11 | 2,567 | 1,904 (5x = 9,520) | 312 | 98 |
| 12 | 2,800 | 2,078 (5x = 10,390) | 324 | 101 |
| 13 | 3,033 | 2,252 (5x = 11,260) | 335 | 105 |
| 14 | 3,266 | 2,418 (5x = 12,090) | 346 | 108 |
| 15 | 3,500 | 2,592 (5x = 13,835) | 357 | 112 |
| 16 | 3,733 | 2,767 (5x = 13,835) | 368 | 115 |
| 17 | 3,966 | 2,941 (5x = 14,705) | 379 | 119 |
| 18 | 4,200 | 3,111 (5x = 15,555) | 391 | 122 |
| 19 | 4,433 | 3,285 (5x = 16,425) | 402 | 126 |
| 20 | 4,666 | Evolve (02:00:00 @ 70 DNA) | 413 | 129 |
| 21 | 9,798 | 3,619 | 509 | 159 |
| 22 | 10,265 | 45,624 | 522 | 163 |
| 23 | 10,731 | 47,791 | 536 | 197 |
| 24 | 11,198 | 49,816 | 549 | 172 |
| 25 | 11,664 | 51,942 | 562 | 176 |
| 26 | 12,131 | 53,967 | 576 | 180 |
| 27 | 12,598 | 56,073 | 589 | 184 |
| 28 | 13,064 | 58,118 | 603 | 188 |
| 29 | 13,531 | 60,204 | 616 | 193 |
| 30 | 13,997 | Evolve (04:00:00 @ 80 DNA) | 629 | 197 |
| 31 | | (5x = ) | | |
| 32 | | (5x = ) | | |
| 33 | | (5x = ) | | |
| 34 | | (5x = ) | | |
| 35 | | (5x = ) | | |
| 36 | | (5x = ) | | |
| 37 | | (5x = ) | | |
| 38 | | (5x = ) | | |
| 39 | | (5x = ) | | |
| 40 | 37,325 | MAX | 891 | 278 |
Gallery