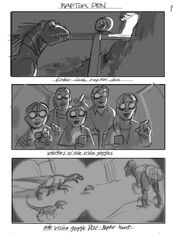 The Raptor Den was an attraction that was cut from the Jurassic World film where Velociraptor lived. In the storyboard, the attraction lacked a light source, so visitors who viewed the attraction needed to wear night vision goggles to see the raptors, they even witness the pack that lives in the den hunting.[1]
It was ultimately replaced by the Raptor Research Arena in the final film.
References
Edit
↑ davelowerystoryboards - Jurassic World (July 31, 2015) Retrieved from http://dlstoryboards.blogspot.com/2015/07/jurassic-world_31.html
Ad blocker interference detected!
Wikia is a free-to-use site that makes money from advertising. We have a modified experience for viewers using ad blockers

Wikia is not accessible if you've made further modifications. Remove the custom ad blocker rule(s) and the page will load as expected.