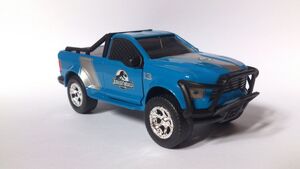 The Rescue Truck was a blue pickup truck utilized in some manner by Jurassic World. It featured "bull bars" around the front end to protect the headlights and grill, and reinforced windows.
It was included as part of Jada Toys' lineup of toy vehicles based on Jurassic World. It was the only one of the four that was "generic" and not actually featured in the film. Its vehicle make is not specified although it bears some resemblance to a Dodge. If it were to fit into the film's universe in some way it'd probably be a vehicle utilized by the rangers, as they seem predominantly responsible for guest safety.
Ad blocker interference detected!
Wikia is a free-to-use site that makes money from advertising. We have a modified experience for viewers using ad blockers

Wikia is not accessible if you've made further modifications. Remove the custom ad blocker rule(s) and the page will load as expected.