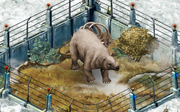 Sarkastodon was a carnivorous mammal that lived approximately 35 million years ago in what is today Mongolia.
The name Sarkastodon means "Flash-Tearing Tooth" in Greek.[1] Except for its long fluffy tail, the Sarkastodon resembles a modern grizzly bear.[2] Just like the modern Grizzly bear, the Sarkastodon fed on fish, plants and other animals.[3] The teeth of the Sarkastodon were well adapted to crush bones.[4]
| | |
| --- | --- |
| | Wikipedia has a more detailed and comprehensive article on Sarkastodon |
Information
Edit
Cost and Time to Hatch
Availability
Common
DNA Research
24000 x10
Placement Cost
291100
Incubation Time
72:11:59
Dimensions
Glacier
In Jurassic Park: Builder Sarkastodon can be created in the Glacier Park section. To complete the mission Puzzle Pieces, the player must collect 3,000 from Sarkastodon with 10% bonus.

Level-Based Stats
Edit
Level
Unmodified Earning Rates (2 Hrs)
Feeding Costs (Glacier Meat)
Ferocity
Life
Attack
1
2751/7 Hours)
275
References
Edit
Ad blocker interference detected!
Wikia is a free-to-use site that makes money from advertising. We have a modified experience for viewers using ad blockers

Wikia is not accessible if you've made further modifications. Remove the custom ad blocker rule(s) and the page will load as expected.