This page needs serious attention!
---
This article does not currently meet the standards set at
Park Pedia: The Jurassic Park Wiki. Please feel free to edit it, and pose any
questions you might have on the article's talk page.
Sarkastodon was added to the Bioshpere for Jurassic World: The Game on February 15, 2017 as a Rare snow creature.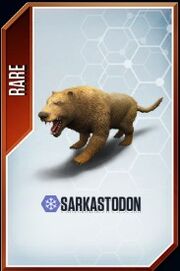 Information
Edit
Sarkastodon is unlocked by completing its "Glacial Shift" event. Additional individuals can be earned in the World Event Battle, purchased in the market or found in card packs.
Cost and Time to Hatch
Availability
Rare
Incubation Period
03:33:00
Placement Cost
??? DNA
Selling Reward
??? DNA
Maximum Earning Rate
67.2 Coins/Minute
Additional Information
Sarkastodon
Appearance
Edit
Unlocked Trivia
Edit
Reward: 810 Food
"The Sarkastodon, meaning 'flesh-tearing tooth', is named after its bear like maw."
Reward: __ Food
"The Sarkastodon has strong canine teeth which it uses to seize its prey. Its sharp premolars easily slice through flesh."
Reward: 30 Dino Bucks and __ Food
"At 3 feet in height, an adult Sarkastodon can reach 10 feet in length! That's the average length of an Indochinese tiger!"
Reward: 21,330 Food, 60 DNA adn 60 Dino Bucks
"A powerful predator of its time, the Sarkastodon is a hypercarnivore, meaning that its diet is exclusively made up of meat."
Level-Based Stats
Edit
| Level | Unmodified Earning Rates (12 Hours) | Feeding Costs | Life | Attack |
| --- | --- | --- | --- | --- |
| 1 | 152 | 810 | 88 | 37 |
| 2 | 303 | 1,605 | 93 | 39 |
| 3 | 454 | 2,415 | 98 | 41 |
| 4 | 605 | 3,195 | 103 | 43 |
| 5 | 757 | 4,005 | 108 | 46 |
| 6 | 908 | 4,800 | 113 | 48 |
| 7 | 1,059 | 5,610 | 118 | 50 |
| 8 | 1,210 | 6,390 | 122 | 52 |
| 9 | 1,361 | 7,200 | 127 | 54 |
| 10 | 1,513 | Evolve (00:30:00 @ 50 DNA) | 132 | 56 |
| 11 | 3,327 | 5,865 | 171 | 72 |
| 12 | 3,629 | 6,390 | 177 | 75 |
| 13 | 3,932 | 6,930 | 184 | 78 |
| 14 | 4,234 | 7,470 | 190 | 80 |
| 15 | 4,537 | 8,010 | 196 | 83 |
| 16 | 4,839 | 8,535 | 202 | 85 |
| 17 | 5,141 | 9,075 | 208 | 88 |
| 18 | 5,444 | 9,600 | 214 | 91 |
| 19 | 5,746 | 10,140 | 220 | 93 |
| 20 | 6,049 | Evolve (01:00:00 @ 60 DNA) | 226 | 96 |
| 21 | 12,701 | 13,455 | 279 | 118 |
| 22 | 13,306 | 14,085 | 286 | 121 |
| 23 | 13,911 | 14,730 | 294 | 124 |
| 24 | 14,516 | 15,360 | 301 | 127 |
| 25 | 15,121 | 16,005 | 308 | 130 |
| 26 | 15,725 | 16,635 | 316 | 134 |
| 27 | 16,330 | 17,280 | 323 | 137 |
| 28 | 16,935 | 17,910 | 330 | 140 |
| 29 | 17,540 | 18,570 | 338 | 143 |
| 30 | 18,145 | Evolve (02:00:00 @ 70 DNA) | 345 | 146 |
| 31 | 37,498 | 21,330 | 411 | 174 |
| 32 | 38,708 | 22,035 | 420 | 178 |
| 33 | 39,917 | 22,725 | 428 | 181 |
| 34 | 41,127 | 23,400 | 437 | 185 |
| 35 | 42,337 | 24,105 | 446 | 188 |
| 36 | 43,546 | 24,780 | 454 | 192 |
| 37 | 44,756 | 25,470 | 463 | 196 |
| 38 | 45,965 | 26,145 | 471 | 199 |
| 39 | 47,175 | 26,850 | 480 | 203 |
| 40 | 48,385 | MAX | 488 | 206 |