Scelidosaurus



Name meaning

"limb lizard"

Diet

Herbivore

Height

5 feet (1.5 meters)

Length

13 feet (4 meters)

Weight

270 kg

Location

England (Britain)

Birth type

Egg

Game appearances

Template Source
Scelidosaurus
was an early Jurassic ornithischian dinosaur. Scientists are unsure of its exact classification, and it has been suggested as an ankylosaur, stegosaur and ornithopod. It was about four metres long, and covered in small, bony scutes. It ate plants, and its North American relative,
Scutellosaurus
was probably a primary food source for
Dilophosaurus
.
| | |
| --- | --- |
| | Wikipedia has a more detailed and comprehensive article on Scelidosaurus |
Jurassic Park franchise
Edit
Scelidosaurus is yet to appear in a Jurassic Park book or movie.
Jurassic Park inspired games
Edit
Scelidosaurus is number .60 of the Herbivore Twos that can be created in Jurassic Park III: Park Builder.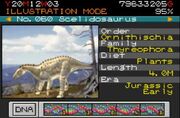 Ad blocker interference detected!
Wikia is a free-to-use site that makes money from advertising. We have a modified experience for viewers using ad blockers

Wikia is not accessible if you've made further modifications. Remove the custom ad blocker rule(s) and the page will load as expected.