This page needs serious attention!
---
This article does not currently meet the standards set at
Park Pedia: The Jurassic Park Wiki. Please feel free to edit it, and pose any
questions you might have on the article's talk page.
Segnosuchus
is creatable in
Jurassic World: The Game
 as a Legendary Hybrid herbivore.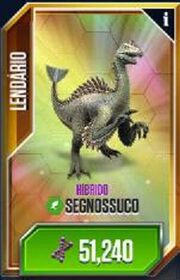 Information
Edit
Segnosuchus becomes unlocked in the market after fusing a level 40 Segnosaurus and a level 40 Postosuchus. Additional individuals can be purchased in the market for 51,240 DNA.
Cost and Time to Hatch
Availability
Legendary Hybrid
Incubation Period
168:00:00
Placement Cost
51,240 DNA
Selling Reward
??? DNA
Maximum Earning Rate
1,413.72 Gold/Minute
Appearance
Edit
Unlocked Trivia
Edit
Reward: 
"
Reward: 
"
Reward: 
"
Reward: 
"
Level-Based Stats
Edit
| Level | Unmodified Earning Rate (8 Hours) | Feeding Costs | Life | Attack |
| --- | --- | --- | --- | --- |
| 1 | 2,121 | 25,740 | 898 | 842 |
| 2 | 4,242 | 50,688 | 948 | 889 |
| 3 | 6,302 | 76,320 | 998 | 938 |
| 4 | 8,483 | 101,277 | 1,048 | 982 |
| 5 | 10,803 | 126,918 | 1,098 | 1,029 |
| 6 | 12,724 | 151,866 | 1,148 | 1,076 |
| 7 | 14,845 | 177,507 | 1,198 | 1,123 |
| 8 | 18,965 | 202,455 | 1,247 | 1,169 |
| 9 | 19,086 | 228,096 | 1,297 | 1,216 |
| 10 | 21,206 | Evolve (08:00:00 @ 140 DNA) | 1,347 | 1,263 |
| 11 | 46,653 | 186,120 | 1,746 | 1,637 |
| 12 | 50,894 | 202,693 | 1,809 | 1,696 |
| 13 | 55,136 | 219,780 | 1,871 | 1,754 |
| 14 | 59,377 | 236,511 | 1,934 | 1,813 |
| 15 | 63,618 | 253,638 | 1,996 | 1,871 |
| 16 | 67,859 | 270,171 | 2,058 | 1,930 |
| 17 | 72,100 | 287,298 | 2,121 | 1,998 |
| 18 | 76,341 | 304,029 | 2,183 | 2,047 |
| 19 | 80,583 | 321,156 | 2,245 | 2,105 |
| 20 | 84,824 | Evolve (12:00:00 @ 160 DNA) | 2,308 | 2,163 |
| 21 | 178,129 | 852,192 | 2,844 | 2,666 |
| 22 | 186,612 | 892,485 | 2,919 | 2,737 |
| 23 | 195,094 | 933,372 | 2,994 | 2,807 |
| 24 | 203,576 | 973,289 | 3,069 | 2,877 |
| 25 | 212,058 | 1,014,354 | 3,144 | 2,947 |
| 26 | 220,541 | 1,054,647 | 3,219 | 3,017 |
| 27 | 229,923 | 1,095,633 | 3,293 | 3,087 |
| 28 | 237,505 | 1,135,530 | 3,368 | 3,158 |
| 29 | 245,088 | 1,176,615 | 3,443 | 3,228 |
| 30 | 254,470 | Evolve (24:00:00 @ 180 DNA) | 3,518 | 3,298 |
| 31 | 525,904 | 3,603,699 | 4,191 | 3,929 |
| 32 | 542,869 | 3,718,143 | 4,279 | 4,011 |
| 33 | 559,834 | 3,835,953 | 4,366 | 4,093 |
| 34 | 576,798 | 3,950,298 | 4,453 | 4,175 |
| 35 | 593,763 | 4,068,306 | 4,541 | 4,257 |
| 36 | 610,728 | 4,182,750 | 4,628 | 4,339 |
| 37 | 627,692 | 4,300,758 | 4,715 | 4,421 |
| 38 | 644,657 | 4,415,598 | 4,803 | 4,502 |
| 39 | 661,621 | 4,533,012 | 4,890 | 4,584 |
| 40 | 678,586 | MAX | 4,977 | 4,666 |