Sideshow Collectibles are famous for their breath taking excellent detailed sculpts, one line in particular was their Jurassic Park line which consisted of three sculpts: original, exclusive, and bronze. Each one based off the Tyrannosaurus vs Velociraptor fight in the Visitor Center.
The original sculpt came with the T.rex with a Raptor in its jaws and one attached to its side and the Visitor Center's floor. It would cost you $249.99.
Exclusive
Edit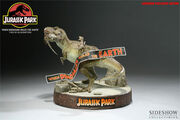 The exclusive came with everything the original plus an added bonus the "When Dinosaurs Ruled The Earth!" banner. It would cost you $299.99.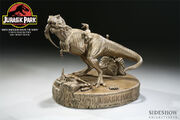 The bronze sculpt was cast in bronze and came with everything the original had. It would cost you $898.89.
Ad blocker interference detected!
Wikia is a free-to-use site that makes money from advertising. We have a modified experience for viewers using ad blockers

Wikia is not accessible if you've made further modifications. Remove the custom ad blocker rule(s) and the page will load as expected.