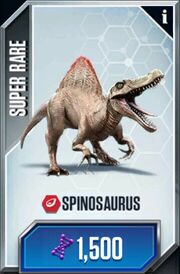 Spinosaurus can be created in Jurassic World: The Game as a super rare carnivore.
Information
Edit
It is unlocked by completing battle stage 25. More individuals can be purchased in the market for 1,500 DNA or found through card packs.

A level 40 Spinosaurus can be fused with a level 40 Utahraptor to create the hybrid Spinoraptor.


Cost and Time to Hatch
Availability
Super Rare
Incubation Period
11:10:00
Placement Cost
1,500 DNA
Additional Information
Spinosaurus
Appearance
Edit
Level-Based Stats
Edit
| Level | Unmodified Earning Rates (2 hours) | Feeding Costs | Life | Attack |
| --- | --- | --- | --- | --- |
| 1 | 130 | 324 (5x = 1,620) | 176 | 45 |
| 2 | 260 | 639 (5x = 3,195) | 186 | 48 |
| 3 | 389 | 963 (5x = 4,815) | 196 | 50 |
| 4 | 519 | 1,278 (5x = 6,390) | 206 | 53 |
| 5 | 648 | 1,602 (5x = 8,010) | 216 | 55 |
| 6 | 778 | 1,917 (5x = 9,585) | 225 | 58 |
| 7 | 908 | 2,241 (5x = 11,205) | 235 | 60 |
| 8 | 1,037 | 2,556 (5x = 12,780) | 245 | 63 |
| 9 | 1,167 | 2,880 (5x = 14,400) | 255 | 65 |
| 10 | 1,296 | Evolve (01:00:00 @ 60 DNA) | 265 | 68 |
| 11 | 2,852 | 2,115 (5x = 10,575) | 343 | 88 |
| 12 | 3,111 | 2,309 (5x = 11,545) | 355 | 91 |
| 13 | 3,370 | 2,502 (5x = 12,510) | 368 | 94 |
| 14 | 3,629 | 2,687 (5x = 13,435) | 380 | 97 |
| 15 | 3,888 | 2,880 (5x = 14,400) | 392 | 100 |
| 16 | 4,148 | 3,074 (5x = 15,370) | 404 | 103 |
| 17 | 4,407 | 3,267 (5x = 16,335) | 417 | 107 |
| 18 | 4,666 | 3,456 (5x = 17,280) | 429 | 110 |
| 19 | 4,925 | 3,650 (5x = 18,250) | 441 | 113 |
| 20 | 5,184 | Evolve (02:00:00 @ 70 DNA) | 453 | 116 |
| 21 | 10,887 | 6,102 (5x = 30,510) | 559 | 143 |
| 22 | 11,405 | 6,386 (5x = 31,930) | 573 | 147 |
| 23 | 11,924 | 6,687 (5x = 33,435) | 588 | 150 |
| 24 | 12,442 | 6,971 (5x = 34,855) | 603 | 154 |
| 25 | 12,960 | 7,268 (5x = 36,340) | 618 | 158 |
| 26 | 13,479 | 7,551 (5x = 37,755) | 632 | 162 |
| 27 | 13,997 | 7,844 (5x = 39,220) | 647 | 165 |
| 28 | 14,516 | 8,132 (5x = 40,660) | 662 | 169 |
| 29 | 15,034 | 8,424 (5x = 42,120) | 676 | 173 |
| 30 | 15,552 | Evolve (04:00:00 @ 80 DNA) | 691 | 177 |
| 31 | 32,141 | 204,773 | 823 | 211 |
| 32 | 33,178 | 211,298 | 840 | 215 |
| 33 | 34,215 | 218,070 | 858 | 219 |
| 34 | 35,252 | 224,528 | 875 | 224 |
| 35 | 36,288 | 231,255 | 892 | 228 |
| 36 | 37,325 | 237,735 | 909 | 232 |
| 37 | 38,362 | 244,418 | 926 | 237 |
| 38 | 39,399 | 250,920 | 943 | 241 |
| 39 | 40,436 | 257,603 | 961 | 246 |
| 40 | 41,472 | Fuse (04:00:00 @ 250 DNA) | 978 | 250 |