Stegoceras

Jurassic Park Institute Artwork

Name meaning

"Roofed Horn"

Diet

Herbivore

Height

1.3 meters (4 feet)

Length

2 meters (7 feet)

Weight

10-40 kilograms (22-88 lb)

Game appearances

Template Source
Stegoceras was a small pachycephalosaurid that lived in the Cretaceous Period. This herbivore had an estimated length of up to 2 metres (6.6 ft) and weighed 10 kilograms (22 lb) – 40 kilograms (88 lb).
| | |
| --- | --- |
| | Wikipedia has a more detailed and comprehensive article on Stegoceras |
Video games
Edit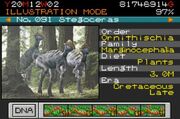 It appears in Jurassic Park III: Park Builder as a Herbivore One.
Ad blocker interference detected!
Wikia is a free-to-use site that makes money from advertising. We have a modified experience for viewers using ad blockers

Wikia is not accessible if you've made further modifications. Remove the custom ad blocker rule(s) and the page will load as expected.