Ad blocker interference detected!
Wikia is a free-to-use site that makes money from advertising. We have a modified experience for viewers using ad blockers

Wikia is not accessible if you've made further modifications. Remove the custom ad blocker rule(s) and the page will load as expected.
Stegoceratops
is a hybrid that can be created in
Jurassic World: The Game
. It originally could not be created for the player's park until the June 11, 2015 update.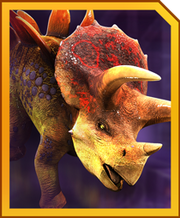 Information
Edit
Stegoceratops becomes available in the market once the player fuses a level 40 Stegosaurus and level 40 Triceratops together. Before the update on June 10, 2015, Stegoceratops had a nasal horn and a frill like Triceratops until this later update changed it to resemble how it looked in the concept art of Jurassic World.
Cost and Time to Hatch
Rank
Super Rare
Incubation Period
16:40:00
Placement Cost
Level 40 Stegosaurus + Level 40 Triceratops + 350 DNA per attempt (1st Individual)
8,960 DNA
Level-Based Stats
Edit
| Level | Unmodified Earning Rates (3 hrs) | Feeding Costs | Attack | Life |
| --- | --- | --- | --- | --- |
| 1 | 284 | 1,188 | 145 | 566 |
| 2 | 555 | 2,354 | 153 | 597 |
| 3 | 832 | 3,542 | 161 | 628 |
| 4 | 1,109 | 4,686 | 169 | 660 |
| 5 | 1,386 | 5,874 | 177 | 691 |
| 6 | 1,664 | 7,040 | 185 | 723 |
| 7 | 1,941 | 8,228 | 193 | 754 |
| 8 | 2,218 | 9,372 | 201 | 785 |
| 9 | 2,495 | 10,560 | 209 | 817 |
| 10 | 2,772 | Evolve (Requires 2 level 10 individuals + x amount of DNA per attempt) | 217 | 848 |