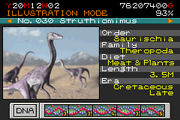 Struthiomimus ("Ostrich mimic") was an ornithomimid or ostrich dinosaur from southern Alberta, Canada. It's name derives from its resemblance to the North African Ostrich, Struthio camelus. It reached lengths of 3 to 4 m (10 to 13 ft).
| | |
| --- | --- |
| | Wikipedia has a more detailed and comprehensive article on Struthiomimus |
Jurassic Park
Edit
Struthiomimus has never appeared or is mentioned in any Jurassic Park films or books, it has however appeared in Jurassic Park III: Park Builder.